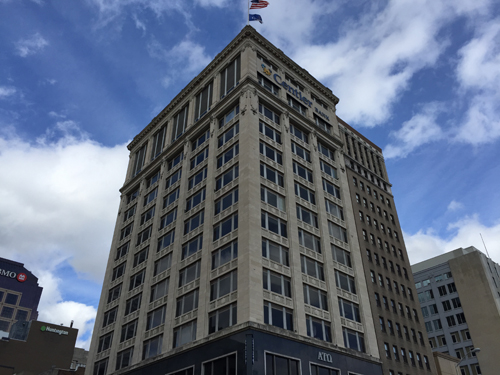 The street-level retail tenants in the One North Penn building downtown are preparing to vacate the premises as work gears up to transform the 16-story office structure into a 130-room hotel.
The Pita Pit at 1 N. Pennsylvania St. will close at the end of this week without any immediate plans to reopen elsewhere. And the Centier Bank branch on the northeast corner of Pennsylvania and Washington streets also plans to leave, although its exact departure date is unknown, said Centier spokeswoman Deborah Robinson.
"We're working on relocation options right now in downtown Indianapolis," Robinson said.
When Loftus Robinson purchased One North Penn in March 2017, the 82,565-square-foot office building was about half-full. By December, when the developer announced it would convert the building to a Kimpton Hotels & Restaurants property, all of the office tenants had moved out, leaving Centier and Pita Pit as the sole occupants. 
Construction crews will begin work next month to transform the building into a Kimpton hotel.
"Select demolition will begin in October and full construction is scheduled for the first quarter of 2019," Loftus Robinson principal Drew Loftus told IBJ.
This will be the first Indianapolis property for San Francisco-based Kimpton. Plans call for 130 guest rooms, a signature restaurant, a rooftop bar and more than 5,000 square feet of meeting space.
Patrick Calloway, operating partner for the Pita Pit location, said the restaurant considered relocating elsewhere downtown but ultimately decided not to take that path.
"We are not reopening. We're just closing due to losing the lease," Calloway said, adding that "maybe in the future" the restaurant would re-enter downtown.
A statement attributed to "The Pita Pit Crew" posted on the restaurant's door says, "After 10 years of serving you, we will be closing our doors after lunch on Friday, September 28, 2018. Thank you for all of the memories."
Canada-based Pita Pit's U.S. division, Pita Pit USA, is based in Coeur d'Alene, Idaho. The One North Penn store opened in 2009. When it closes, Pita Pit will be left with three Indiana stores: one each in Fishers, Muncie and Crown Point.
Meanwhile, Merrillville-based Centier says it plans to keep a presence in downtown Indianapolis. The bank hasn't yet settled on a new location, Robinson said, so it doesn't yet know when its last day will be at One North Penn.
Robinson said Loftus Robinson has agreed to work around the bank space while Centier finalizes its relocation plans.
It will be at least a few months before Centier moves out. Federal banking regulations require banks to notify customers in writing, and by posted sign, at least 90 days in advance of a branch relocation. Centier will post such notices once it settles on a new location, Robinson said.
Centier Bank entered the Indianapolis market in 2011 with a loan production office in Carmel. Its One North Penn office opened in 2015. Today the bank has six local offices: the One North Penn location, one each in Carmel, Fishers and Westfield, and two in Zionsville.
 
Please enable JavaScript to view this content.