United Way of Central Indiana recently announced a fund-raising goal of $39 million. That's less than the goal of
$40 million set last year, when fund raising fell short, ending at $38.8 million. UWCI fund raising covers a six-county region.
The 2009 campaign chairman is Gino Santini, senior vice president of corporate strategy and business development
at Eli Lilly and Co. United Way's fund-raising volunteers already have come up with $6.7 million, or about 17 percent
of the goal.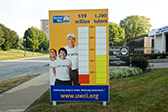 United Way of Central Indiana hopes to raise $39 million. (IBJ Photo/Robin Jerstad)
This year's
campaign will focus on gifts of at least $1,500. United Way reports receiving seven "leadership" gifts worth $200,000
combined since Lilly CEO John Lechleiter and his wife, Sarah, pledged $1 million earlier this summer.
In addition,
UWCI said the accounting firm BKD LLP has added two Tocqueville Society givers, who pledge to give at least $10,000 a year.
Please enable JavaScript to view this content.