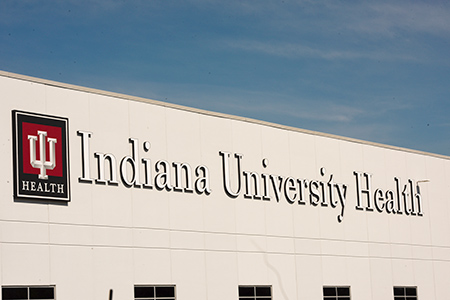 Indiana University Health isn't shy about telling the world how it stacks up in U.S. News & World Report's "Best Hospital" annual rankings.
On its website, IU Health says it is "honored to be nationally ranked 21 years in a row"—and that achieving a national ranking is something that less than 4 percent of the nation's estimated 4,600 hospitals achieve.
Last month, when U.S. News released its latest rankings, IU Health sent out a press release proudly declaring that its medical center—a combination of Methodist and University hospitals downtown and Saxony Hospital in Fishers—was ranked No. 1 in Indiana and Indianapolis.
"Patients, families and other health care professionals have many choices when seeking care," IU Health said. "Respected rankings like these provide an important guide with the potential to inform these important decisions."
The Indianapolis-based health care system also was ranked in the top 50 nationally in eight specialties. No other adult hospital in the state made it into the national rankings, although several were rated "high-performing" in certain procedures and conditions.
But are consumers really paying attention?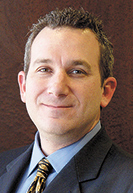 Isgur
A survey of consumers' views on hospitals, by the Robert Wood Johnson Foundation and Harvard School of Public Health, found only 38 percent use rankings to choose a hospital, while 57 percent said they would likely go to a hospital they were familiar with, even if it didn't have a high ranking.
According to Reputation.com, a customer experience management company headquartered in Redwood City, California, most hospital consumer searches begin with Google or another search engine, not a hospital website or U.S. News rankings.
Some experts say the rankings are often a way for hospitals to grab the spotlight and tout their programs, with the U.S. News ranking grabbing the most attention.
"If you walk into any hospital lobby in the U.S., you will probably see a framed poster of the U.S. News rankings, right after the welcome mat," said Ben Isgur, director of PricewaterhouseCoopers' Health Research Institute in Dallas.

"Hospital marketers are quick to announce their ranking as it is arguably the industry's best-known," said Paul H. Keckley, a health care policy analyst in Washington, D.C., and managing editor of the Keckley Report. "Prominent institutions appear at the top each year."
Some health systems pull out all the stops when they score high.
When U.S. News & World Report in 2012 named Boston's Mass General Hospital the nation's best, that hospital baked 14,000 cookies for its staff, decorated with "#1 Thanks to You."
Yet even some hospitals admit the rankings have their limitations.
"The most highly ranked hospital may not always be the best choice for everyone—perhaps it's so far away that travel expenses would be too great, or that hospital isn't in your insurance network," according to the website of Wexner Medical Center at Ohio State University in Columbus.
MedStar Washington Hospital Center in Washington, D.C., says on its website that different raters use different methodologies, and some organizations charge hospitals a fee to use their rankings as part of a marketing strategy.
"The end result is an inconsistent mess of ranking systems in which very few hospitals are ranked at the same level in multiple systems—and no hospital is ranked the same in every system."
Learning from data
Hospital systems say the rankings aren't just a tool to woo consumers.
For example, IU Health officials say they use the rankings extensively to monitor patient safety and quality, redeploy resources, and learn from other health systems.
"If we're trying to focus on a particular issue in our system, we will sometimes look at these rankings to say, 'Hey, who's in the top 10?'" said Dr. Michele Saysana, IU Health's vice president of safety, quality and performance improvement. "Then we'll ask them what they're doing to attack a particular issue."
In the children's hospital category, Riley Hospital for Children in Indianapolis (part of IU Health) ranked in the top 50 in eight pediatric specialties.
Riley administrators say they study the results and the underlying methodology to see how they can improve.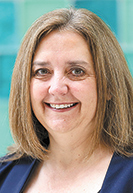 Cox
"Where do we need to invest time, energy, people and resources to make it better?" said Dr. Elaine Cox, chief medical officer at Riley.
At Riley, for example, officials decided to start a family flu and pertussis immunization program in 2010 after the question about immunizations showed up on a U.S. News survey. It has continued the program and this year administered 1,300 vaccines to parents, nannies, siblings and sometimes grandparents to help them avoid infections.
IU Health said the rankings also often lead to in-house conversations on staffing levels, budgeting and medical procedures.
Rankings proliferate
More and more reports spring up all the time. A cottage industry of publications and not-for-profits has mushroomed, all offering their own rankings of the nation's best hospitals, according to Kaiser Health News.
In 2012, Leapfrog Group, a not-for-profit funded by employers, and Consumer Reports began rating the safety of hospitals.
Other ranking services springing up or expanding in recent years include ProPublica's Surgeon Scorecard (which tallies deaths and complication rates in the operating room), Truven Health Analytics (which identifies the top 100 hospitals based on overall performance) and Consumers' Checkbook (which rates 4,800 hospitals on procedures, outcomes and patient ratings).
"In the age of Yelp and Nextdoor, consumers crave third-party references for hospitals and some studies indicate that consumers are willing to sacrifice convenience of distance and appointment times for better expertise," said Reynaldo Villar, founding partner of HealthChampion, a Chicago company that links consumers and health providers.
Many of central Indiana's health systems say they keep a close eye on the various rankings. And they are quick to note which rankings they score high in.
Franciscan Health pointed out it was named to "America's 50 Best Hospital Awards" this year by Healthgrades, a Denver company that provides information on more than 3 million physicians, hospitals and health care providers. Its Mooresville hospital was ranked the best in Indiana in joint replacement care by Quantros CareChex. Its Carmel hospital earned Press Ganey's highest award for patient experience.
Franciscan said in a statement that it incorporates data from various rankings "to improve our care, forge our strategic plans, and market our clinical service lines and physician practices."
Community Health Network said its physicians have ranked high nationally two years in a row for patient satisfaction, according to NRC Health, a Nebraska organization that compiles consumer health data.
"The rankings we value most are the ones we receive from our patients and the people we serve," said Dr. Robin Ledyard, Community's chief medical officer.
Hendricks Regional Health said it scored high in U.S. News' ratings for hip and knee replacement, and was awarded five stars for safety and quality, the highest possible rating, from the Centers for Medicare & Medicaid Services.
And Eskenazi Health, the county's safety-net hospital for underinsured patients, said it looks at a variety of ratings, including those for employee satisfaction. It was recently recognized by Becker's Hospital Review's "150 Top Places to Work in Health Care" for the third consecutive year.
Fighting for No. 1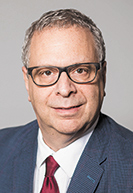 London
Around the country, some top-rated hospitals pull out all the stops if they drop a notch or two in U.S. News' rankings.
At the Cleveland Clinic—which ranked this year as the nation's second-best hospital overall, after the Mayo Clinic—administrators closely monitor how it ranks in every category, said Dr. Alan London, who worked there 12 years, including a stint as executive director of business development, reporting to the CEO.
"If we went down in a ranking, even from No. 2 in a specialty to No. 3, a team of people were tasked with going to investigate," said London, who now is an Indianapolis health care consultant at Miami-based BDC Advisors. "In part, it was [that] we wanted to get back to No. 2. But also because some outside agency with good data was comparing us to our peers, and maybe discovered something we wouldn't discover on our own."
Hospitals in U.S. News' rankings get a huge report each year, which lays out the data, and shows where the hospitals did well and not so well, and how scores changed in various categories over the years compared to peers.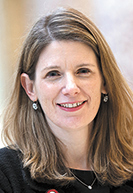 Saysana
But at many hospital systems, including IU Health, it's much more than a once-a-year review. Administrators and physicians spend countless hours flipping through U.S. News' lengthy methodology.
The pages are jam-packed with medical terms and statistical language, such as "binary variables," "maximal homogeneity" and "joint case complexity measures." It's not easy reading, especially late in the day.
"It'll put you right to sleep, trust me," said IU Health's Saysana, with a laugh.
U.S. News ranks 16 specialty areas, through a mix of data and physician surveys. The 20 hospitals with the most and highest rankings and the greatest number of high-performing procedure and condition ratings are recognized in an honor roll for best hospitals overall. None this year was in Indiana.
But only 158 of 4,600 medical centers ranked nationally in even one category, so IU Health said it is pleased that it ranked in eight specialties. "That doesn't mean we don't have room to get better," Saysana said. "We always want to get better."•
Please enable JavaScript to view this content.