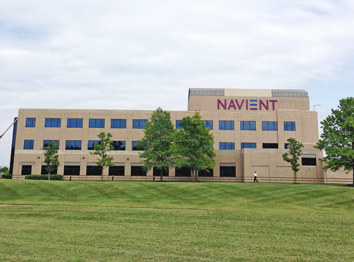 The American Federation of Teachers filed a lawsuit Wednesday against Navient, one of the country's largest student loan servicing companies, alleging that it failed to guide eligible borrowers through a critical student loan forgiveness program.
Navient is headquartered in Wilmington, Delaware, but has more than 2,000 employees in Indiana at offices in Fishers, Indianapolis and Muncie. The company, formerly part of Sallie Mae, owns the 450,000-square-foot former USA Group headquarters in Fishers along Interstate 69, where about 1,400 people work. It also owns a 50,000-square-foot loan-servicing center in Indianapolis.
At the center of the lawsuit, brought by nine teachers financially backed by the country's biggest teachers union, is the Public Service Loan Forgiveness program. Signed into law in 2007, the program allows borrowers who work 10 years in an eligible public service job and make 120 on-time loan payments to have their remaining loan balances forgiven.
The program is complex and has been plagued with problems as the first borrowers have become eligible starting last year. A Department of Education report issued last week found only 96 applications were approved out of 29,000, with most applicants being denied for having the wrong loan type or missing or incomplete information.
The AFT lawsuit alleges that for-profit Navient contributed to the lack of approvals by steering its borrowers into repayment programs or types of forbearance that do not qualify for the loan forgiveness program.
The Department of Education has authorized only one student loan servicing entity to handle PSLF loans: the Pennsylvania Higher Education Assistance Authority, better known as FedLoan. Because Navient and other student loan servicing companies are paid per loan they service, transferring accounts to the nonprofit FedLoan would have cost Navient revenue.
"Brazen, inexcusable servicing breakdowns left (teachers) still under a mound of debt, unable to put anything aside for their children or their family, but now with no end in sight," said Seth Frotman, the former student loan ombudsman for the Consumer Financial Protection Bureau. Frotman, once the top government official for student loans, left the bureau in August out of frustration in how the CFPB, now under the control of President Donald Trump's appointees, has been handling of student loan issues.
"For too long, the student loan industry has not been held to account for its failures," Frotman said. "Today is about getting them much needed justice."
It's not just teachers who may be impacted by this lawsuit. An estimated 32 million Americans may qualify for the program, from teachers to firefighters, social workers and police officers. Lawyers for the nine teachers and the members of the AFT, represented by the firm Selendy & Gay PLLC, plan on pursuing class-action status in their Navient case.
"No one goes into public service to strike it rich; they do it out of a deep commitment to students, patients and the public good. But we cannot attract the best and brightest to these careers if promises of debt relief are deliberately broken," said Randi Weingarten, president of the AFT, in a statement.
Navient Corp. is also being sued by several states and the CFPB for failing to service student loans correctly. The company has vigorously denied all the allegations in those lawsuits. The company also declined to comment on the AFT's lawsuit.
Please enable JavaScript to view this content.