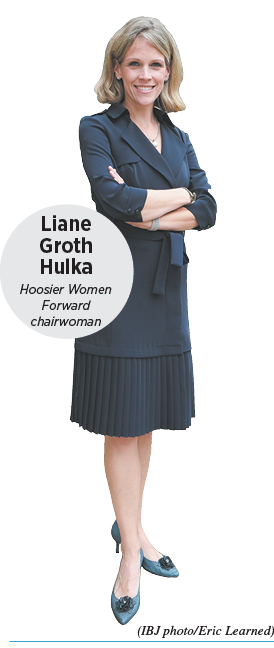 Liane Groth Hulka, 39, thought she needed to do more to help Democrats, especially Democratic women, after the 2016 election. So, in 2017, she spearheaded the launch of Hoosier Women Forward, a program designed to help Democratic women become better and stronger leaders in community and professional settings. She now chairs the board.
How did Hoosier Women Forward get started?
I actually met with the founder of the Lugar Series, the Republican training program for women. I think Judy Singleton said something to me like, "Don't ask permission, just do it." And so I did. I decided in early January [2017] that starting a Democratic training program for women to counter the Lugar Series was what I wanted to focus on.
I knew the other women in the political sphere who also wanted to help in that effort, and so we got together and incorporated and pulled together a board. 2017 to 2018 was our [planning] year, and we launched applications for this leadership-development program in May of this year, and then we selected the class in July, and now we are off and running with the class starting in August.
We are a working board, so we haven't hired an executive director yet. That is coming in the future.
I'm just so proud of everything these women have done to get where we are today, and I feel like now we're on the map. We are here and we've got a class of 22 incredible women that we've selected.
So it is modeled after the Luger Series?
Yes. They were definitely the inspiration for the program and I saw the successes they had enjoyed. And I realized the Democrats had no similar statewide network of women that want to help empower other women to find their place in politics and become leaders.
Why do you think that is that the Democrats hadn't established a similar program?
I think it's very hard to do. We've been essentially out of power for quite some time and sometimes when you are in power you don't feel the need to do something right now. As I said before, it wasn't until Trump was elected, and I realized we have a Republican governor, we have a Republican president—enough is enough and something needs to be done.
What was the interest like for this first round of applications?
We were shocked. … We had 100 applications and they were all from outstanding women that were existing leaders in their own right. It was very difficult to make the decision of who to select.
What are the participants doing?
There are nine sessions and each session is about six hours long. We have an overnight retreat … and then there's a D.C. trip in April.
The sessions are quite a mix in learning from other leaders in the community with time for reflection and interactions, so I would call them interactive sessions. They also have homework before each class.
What's the cost of the program for these women?
Due to the generous donations, we have been able to provide this class at no charge to participants. There was a fee to apply to the program, and the only thing we ask these women to do is to provide their transportation cost.
When do you think you will hire an executive director?
I plan to get a committee for the executive director search together next month and hopefully we can have someone hired before the next class. So, in 2019. We didn't want to rush that decision, because it's such an important one.•
Please enable JavaScript to view this content.