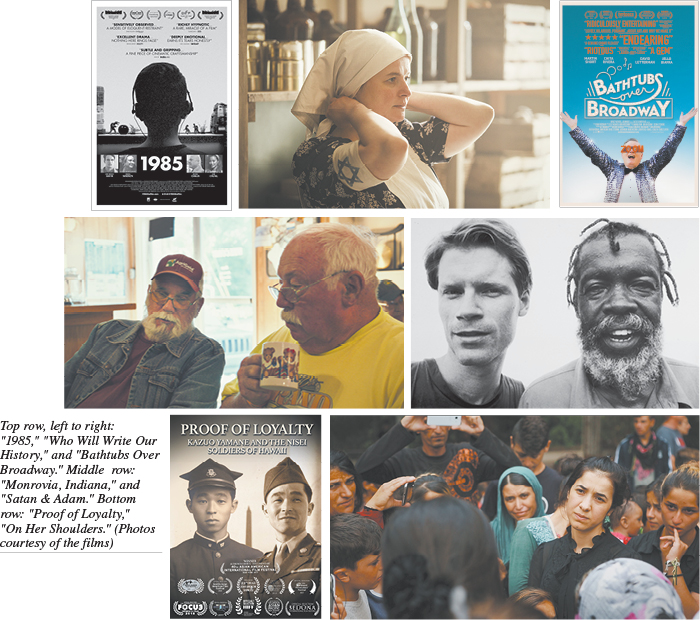 If you go
Heartland Film Festival, Oct. 11–21
Most events at the Indianapolis Museum of Art, and AMC Castleton and Traders Point
Most tickets $12
Full schedule at www.heartlandfilm.org
Select the right films, and attending a film festival is a terrific opportunity to explore worlds of excellence and interest beyond the standard multiplex offerings. Select the wrong films, and you're dropping top dollar on flicks that wouldn't be worth your time on a Netflix-binging sick day.
I'm happy to report there are plenty of worthwhile offerings at this year's Heartland Film Festival. Of the more than 100 films in the lineup, I screened more than 25 to find gems to recommend.
Note: This year's festival includes a documentary about IBJ Corp. co-owner Mickey Maurer. To avoid conflict of interest, it was not screened for this story.
Documentary filmmakers long have been at the front lines of harnessing stories of oppression from around the world and it's easy to bunch such films together. "On Her Shoulders" takes a different approach.
While the backstory—the 2014 genocide and sexual slavery of the Yazidis by ISIS in northern Iraq—is horrifying, this is less about the specifics of those atrocities and more about the unfathomable challenges faced by 23-year-old Nadia Murad, a survivor who wanted nothing more than to open a beauty shop in her village. Instead, she became a symbol and spokesperson for her people. But what does it take to tell your nightmare over and over again—to journalists, to crowds and to the U.N. Security Council? That question haunts and propels this outstanding film.
We've seen (perhaps more than enough) films about men who become better fathers thanks to some life-altering event. But "Thunder Road" is no "Kramer vs. Kramer." The winner of the Grand Jury Award at the South by Southwest film festival, its central character is a cringe-inducing cop who delivers a painfully awkward eulogy at his mother's funeral and spirals downward from there. Writer/director/actor Jim Cummings walks an incredibly fine line between making us want to help the guy and wanting to get as far away from him as possible. The result is fresh, funny and strangely affecting.
Shot in austere black and white and featuring strong supporting performances by familiar faces Virginia Madsen and Michael Chiklis, "1985" revolves around the brief holiday homecoming of a closeted (at least at home) gay man whose new life in New York is being decimated by a yet-to-be-understood disease.
A real-life victim of AIDS is the subject of the documentary "Howard," another strong festival entry. Known for his lyrics for "Beauty and the Beast," "The Little Mermaid" and more, the title character, Howard Ashman, not only helped create memorable songs but helped usher in a new era in Disney animation.
It might be helpful for folks left of center politically to check out "Hillbilly," a documentary in which a woman returns to her Appalachian roots to explore how her world view could have become so separated from that of her family and hometown residents. In the process, she provides insight into the way many have mercilessly stereotyped the hill people she still loves.
Closer to home, an attempt to understand small-town life is also at the core of "Monrovia, Indiana." Crafted by legendary documentarian Frederick Wiseman (an honorary Oscar winner in 2017), it slowly, respectfully and quietly captures scenes and images from the town without manipulative music, narration or clear message. A visit to a gun shop, for instance, is filled with discussion about a local's gallbladder surgery rather than questions about the Second Amendment while a government meeting features a lengthy discussion of fire hydrants.
Bigger-picture historical matters are the subjects of "Proof of Loyalty: Kazuo Yamane and the Nisei Soldiers of Hawaii" and "Who Will Write Our History," each exposing remarkable World War II stories. The first concerns the relatively unknown efforts of a Japan-educated Hawaiian who, against the tide of prejudice, became a hero who was instrumental in winning the war in the Pacific. The latter highlights the secret group that archived the horrors of life in the Warsaw ghetto so the truth couldn't later be denied.
The absorbing "Satan & Adam," shot over 30 years, begins in 1986, when white harmonica player Adam Gussow gets up the nerve to ask black bluesman Sterling "Mr. Satan" Magee whether he can play with him on the Harlem street. Their three-decade relationship is punctuated with background revelations, a life-changing encounter with U2's The Edge, and plot twists aplenty.
On a lighter, odder note, "Bathtubs Over Broadway" was spawned by "Late Night with David Letterman" writer Steve Young's obsession with collecting record albums of industrial trade show musical reviews. Young not only discovers there are other collectors of such obscurities, but also tracks down composers and performers from these private, usually one-night-only performances (including those from Martin Short and Florence Henderson).•
Please enable JavaScript to view this content.