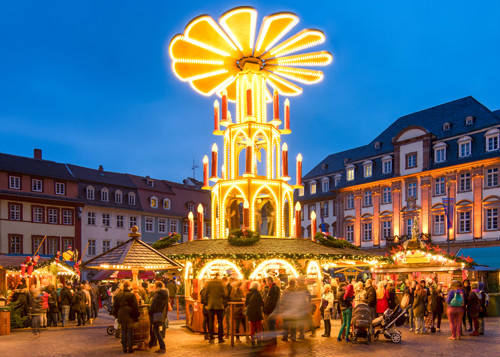 The city of Carmel has new attraction for its holiday market: a 33-foot-tall, 10-ton German-made "pyramid" that just arrived in a truck on Thursday.
Carmel says the attraction, made by famous German nutcracker maker Steinbach, will be unique and the largest of its kind in America.
Featuring 3,000 lights, the pyramid will be featured in the second season of the Carmel Christkindlmarkt, which runs Nov. 17 to Dec. 23 at Carmel's Center Green.
The structure was supposed to arrive earlier this week, but delivery was delayed until Thursday night. It is scheduled to be unloaded by crane Friday morning and assembled on site between the Palladium and the Tarkington Theater.
"Steinbach is a celebrated German company that is well known for their world-famous nutcrackers and handmade wooden Christmas products, which are also featured at the market," Carmel officials said in a written statement. "They see the great potential of the Carmel Christkindlmarkt, and want to be part of its continued success. This partnership will ensure that Steinbach will be adding to the cultural authenticity of the Christkindlmarkt for many years, and will also ensure that this iconic German Gluhwein Pyramide will be a fixture of our city's Christmas traditions for generations to come."
Mulled wines, beer and holiday punches will be sold at Carmel's pyramid.
Organizers say Gluhwein pyramides are inspired by a traditional German Christmas decoration called the "Weihnachtspyramide," or Christmas Pyramid,  which have a rich history at the Christmas markets in Germany.
Carmel's German-themed Christmas market—the brainchild of Mayor Jim Brainard—attracted at least 150,000 people over five weeks last year, generating almost $1 million and clearing almost $300,000. This year's Christkindlmarkt will expand east to the Monon Trail, a change aimed at addressing concerns about congestion.
Please enable JavaScript to view this content.