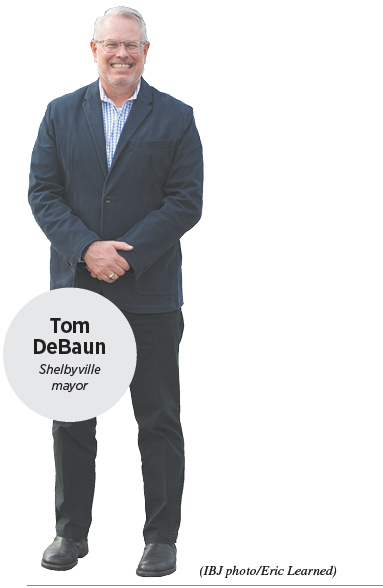 Shelbyville Mayor Tom DeBaun, 54, is keen to put his hometown on the map, so to speak.
Since taking office in 2012, one of DeBaun's top priorities has been to increase awareness of the Shelby County city, whose population is just shy of 20,000.
He said the city, located along I-74 about 30 miles southeast of Indianapolis, has a lot going for it: good schools, an affordable cost of living, a thriving economy with several large industrial employers, and a huge tourism draw in the Indiana Grand casino.
The challenge, he said, is that the city's assets aren't well-known outside of Shelby County. So the city has created special events to draw visitors. In June, it signed a one-year contract with an outside public relations firm. It created Backyard Shelby, a group of young professionals helping promote the city and shaping its development.
"The whole point is to kind of dispel this notion that we're this dreary backwater community," DeBaun said.
Why do you think Shelbyville has such a low profile?
The perception is that we're significantly further away from Indianapolis than we are. Countless times in my 25-plus years in city government, I've had people show up for meetings 20 or 30 minutes early because they thought we were an hour away.
That seems like a tough nut to crack.
Hence the need for more publicity. Because, when you're looking at the metro region, we're not obvious. We have to talk about the things that are happening here. It's interesting how we've started to see more of a following now with the events that have been created in the last three or four years, such as the BBQ & Brew Fest, Wine Walk, Taste of Shelby County, things like that.
Are those events attracting out-of-towners?
Significantly. We see a lot of people from out of town. … Now we want to start talking about how we attract those people as residents.
The other thing, too, is we created in 2013 a sports tourism board, which is an offshoot of the tourism bureau. We've been attracting these obscure sporting events. The United States baton twirling championships happen here at Shelbyville High School. I didn't even know that existed. But we put in a bid for it, and we've gotten it. We are now the Division III cross-country course for Franklin College and another university, and [this fall] we're holding a regional event that's going to bring hundreds of cross-country runners that are NCAA athletes.
So the sports organization started in 2013. When did you start landing some of these events?
Not long after that. The cross-country course became a reality by 2015 or 2016. The baton twirling came about that period of time. This year we had a Kansas City barbecue cook-off qualifier for the first time. We're going after those events that aren't necessarily obvious.
What do you wish that outsiders knew about your city?
The proximity. I time this every time I go to a Pacers game. From the parking garage [in downtown Indianapolis] to the Highway 9/I-74 exit [in Shelbyville] is 28 minutes. … We have a thriving technological/industrial community here with our new developments. We have a significant number of open jobs that would be fantastic for anybody. We have available land and a tremendous value-for-dollar for housing here for people who work in Indy. … Those are the things we'd like people to realize.•
 
Please enable JavaScript to view this content.