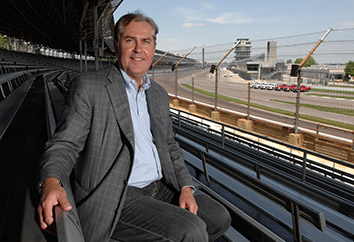 Jeff Belskus has decided to step down as president of the Indy Eleven after nearly three years in the job, the city's professional soccer team announced Tuesday.
The team said Belskus, 59, plans to remain in the position until a successor is chosen, likely toward the end of the year. No reason was provided for the departure.
Belskus, the former president and CEO of the Indianapolis Motor Speedway, joined the Indy Eleven as president in January 2016.
Belskus oversaw the team's move this year from the North America Soccer League to the much bigger United Soccer League. The team finished seventh in the 16-team USL Group A division with a 13-11-10 record and qualified for the playoffs, where it lost to Louisville City FC in the first round.
The team also began playing home games this season in Lucas Oil Stadium, where it saw attendance rise by 14 percent over last year, to about 9,500 per game.
"Indy Eleven's success during the past few years have been significant, and Jeff has been instrumental in the growth and development of the organization," Indy Eleven owner Ersal Ozdemir said in written remarks. "We continue to grow our fan base, have made a well-received transition to the United Soccer League, and made the playoffs in our first year in the USL. Jeff played a pivotal role in these accomplishments, and we appreciate his strong leadership."
Belskus spent about 27 years in various positions with Hulman & Co. and its affiliates, the Indianapolis Motor Speedway and the IndyCar Series.
He was president and CEO of IMS from 2009 to 2013, CEO of IndyCar for less than a year in 2012, and CEO of Hulman from 2011 to 2014.
"Indy Eleven has experienced several years of solid growth," Belskus said in a written statement. "Professional soccer has a bright future in Indiana, and I'm very pleased to have contributed to its growth. I am extremely grateful to Ersal Ozdemir for giving me the opportunity to lead this organization. I'm also thankful to my entire team at Indy Eleven for their hard work and dedication. I look forward to working with Ersal and everyone at Indy Eleven on a smooth transition."
Belskus plans to continue in his role as a director at the Indy Eleven Soccer Foundation, the team said.
Indy Eleven said it has hired Nolan Partners, an executive search firm specializing in sports and entertainment, to conduct a global search for a CEO. Nolan has extensive experience working with global soccer brands, the team said.
Please enable JavaScript to view this content.