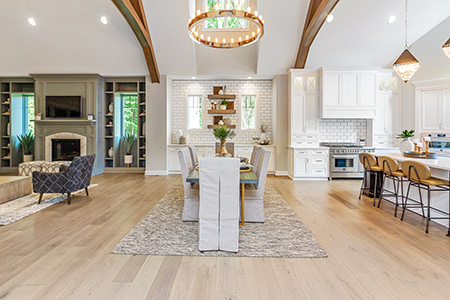 Pinterest and HGTV have changed the way buyers shop for new homes.
Now, when customers enter the showroom at the Estridge Homes office in Carmel, they know exactly what they want, said Blake Lofgren, director of marketing for Estridge Homes. They've spent weeks, maybe even months, researching the latest trends and must-haves.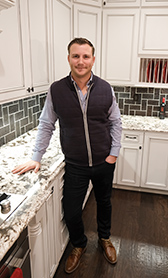 Blake Lofgren, director of marketing for Estridge Homes, said most home buyers come to the showroom with a good idea what they want, including white- or light-colored cabinetry. (IBJ photo/Eric Learned)
"There's so much more access to see new, trending styles," he said. "They're on Pinterest, watching HGTV and 'Fixer Upper.'"
What are new homebuyers looking for?
From open floor plans to smart-home technology, local and national home builders weigh in.
Layout
Open floor plans are still wildly popular, builders agree. For the past 10-15 years, people have moved away from home layouts that compartmentalize rooms.
Today, they want the kitchen, dining room and family room to all feel like one large room. People want the ability to interact from one room to the next, said Steve Hatchel of Arbor Homes.
Homebuyers today demand well-thought-out floor plans that meet their needs, said John Van Beyren, vice president of sales for the Indianapolis division of PulteGroup.
"They aren't looking for square footage as much as if the home fits their needs," he said.
In the kitchen
A new condo for sale at 912 Woodlawn Ave. in Fountain Square includes a bright kitchen with a large island, a favorite of buyers because it can be used for breakfast, homework and serving guests. (Photo courtesy of Keller Williams Indy Metro Northeast)
Today, the kitchen remains the heart of the home, Lofgren said. And the island is typically the central gathering space.
When building a home, people want expansive islands, where they can eat breakfast, work on homework, serve guests and more, said Craig Jensen, Indianapolis Division president for Lennar Homes.
"So many people live in their kitchen," he said. "We're making it feel like a beautiful room you want to spend time in."
Long gone are the days of tan-, beige- or oak-colored cabinets. Today, many buyers are looking for lighter colors, like white or gray.
An entire wall in the Estridge showroom is dedicated to color options for cabinets. Blue is also a popular color, Lofgren said.
As for countertops, quartz has gained popularity over granite, builders agree, as quartz is durable, easy to care for and comes in a variety of hues.
And stainless-steel appliances still rule the day, Jensen said.
Outdoor living
Builders are increasingly wiring houses to be ready for smart-home technology that connects mobile devices and smart speakers to thermostats, door locks, cameras and more. (Photo courtesy of Shutterstock)
Buyers demand outdoor living space, Hatchel said. It can be as simple as a concrete patio or a more elaborate, covered porch, whether it's in front of the house or the back.
On those porches, outdoor fireplaces tend to be popular.
"People are looking for ways to extend your seasons outside," Van Beyren said.
Flooring
Carpeted rooms are far less popular than they were a decade ago, builders say. And so are hardwood floors.
Buyers today are still very interested in hard-surface flooring, but they've realized they don't need to spend top dollar to achieve the look they seek, Lofgren said.
Laminate, composite and vinyl flooring offer a sometimes cheaper alternative to traditional hardwood flooring.
Smart-home technology
More and more builders are offering packages that include the wiring that enables buyers to make their houses smart homes.
Last year, Lennar launched its Wi-Fi-Certified Smart Home design, which features integrated home automation and voice control with an Amazon Echo, which features Alexa voice commands.
Homeowners are now able to control their lights, front-door locks and thermostats simply by talking to Alexa.
Additionally, the homes are Wi-Fi-certified to ensure there are no dead spots throughout the house, Jensen said.
Pulte and Estridge offer similar programs.
The houses Estridge builds are equipped with a backbone wireless mesh network (which allows for a group of routers to be installed in the ceilings) to ensure the wireless signal homeowners get is the same strength in every room.
Buyers can add the Ring doorbell, in-ceiling, wireless speakers and security cameras, among other smart-home products.
"It's definitely a huge part of every build," Lofgren said.
Hatchel said a challenge facing builders is deciding what smart-home features to include. Many include wiring capabilities that allow buyers to add what they want, because all the equipment for a truly smart home could cost tens of thousands of dollars, he said.
"It's tough to dial in on. Everyone's definition of a smart home is different," he said.
Flex rooms
Another popular demand is flexible space—typically a main-floor room that could serve as an additional bedroom, an office or a formal dining room, Hatchel said.
For a young family, the flex room could serve as a toy room and be converted into an office or a secondary family room as children grow, Van Beyren said.
A larger family might want an additional bedroom, and the flex room allows that within the basic floor plans, he said.
Space for Mom and Dad
First-floor guest suites are also becoming more popular. They can serve as a guest bedroom with a private bathroom to give visitors space from the rest of the home, or they can be used to house senior parents who move in with their adult children.
A suite on the first floor gives guests or parents space away from the rest of the family's bedrooms, and a popular feature for the guest suite is a separate entry that allows those using the space to come and go easily, Lofgren said.
Luxurious master baths
Jensen said he's seeing more buyers ditch the traditional tub in their master baths for what he called super showers, which come equipped with two shower heads, a seat and plenty of space.
They're becoming popular as people design luxurious owners' bathrooms, he said, often with lots of glass, large vanities with a double sink, and a private commode room.
Storage space
Every builder IBJ talked to said the one feature buyers are looking for in a new home is plenty of storage.
They want big closets, built-in shelving units and other storage options to eliminate clutter.•
Please enable JavaScript to view this content.