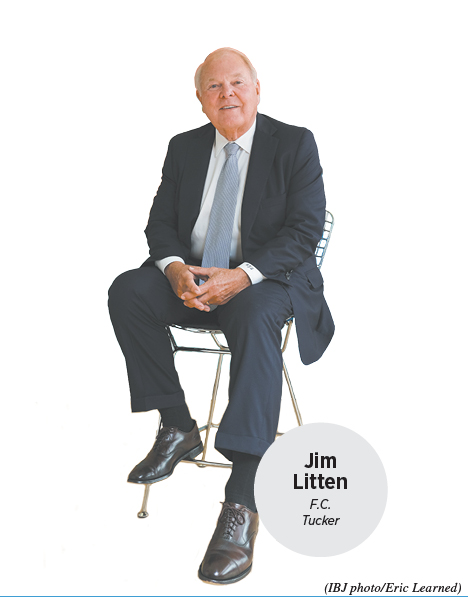 If your home is your castle, Jim Litten might be the king of Indiana residential real estate. As CEO of F.C. Tucker Co., the state's largest independent real estate firm, he oversees 40 offices in Indiana with 1,500 agents and 400 employees. Litten, 72, started as a Tucker sales associate in 1972. He worked his way up the ranks over the decades, and says he has no plans to retire. But he has seen plenty of changes along the way.
How have TV shows like "House Hunters" and "Love It or List It" changed how you do business?
I think what it has done is make people focus more on real estate. It used to be, when a consumer came in and was going to buy a house with us, we would sit down and explain financing to them. We would look at their incomes and debt levels and explain how much they could afford. Today, people are more educated—in many cases have already talked to a lender and they know all those things.
What part of central Indiana is going to be the next hot neighborhoods?
I can honestly say that every area has positive features about them. There's been a lot written about the Carmel-Westfield-Fishers area. Geist Reservoir now is exploding out to Fortville. On the south side, there is so much growth going on down there with new business. Same way when you look west—look at Avon and Plainfield and Brownsburg. So I don't see any dark spots in our market.
In recent months, we've seen rising home prices, higher mortgage rates and shrinking inventory. What's your read on the market?
When we went through the recession, the market just got hammered. Sales were down 33 percent. Then when the market started getting better in 2013, a lot of people that put off the buying decision jumped back into the market. So that, along with low interest rates, really fueled the market.
What drives the real estate market?
I've always said there are three things that drive the real estate market, and all of them right now are very favorable. First, interest rates are still fairly low. Second, unemployment is at 3.8 percent, and people are comfortable making big purchases. Third, the consumer confidence index is flirting with an all-time high in the last 90 days. Then you have a favorable business economy in Indiana. I think it bodes well for the housing market.
What's the single biggest thing a homeowner can do to make a house sell quickly?
There are not too many buyers who want to take on a project. They want something that's in pretty good shape, that shows well, that's clean, uncluttered, the landscaping looks good, the windows are cleaned. It sounds petty, but you only get one chance to make a good first impression.
What is the biggest challenge facing the real estate industry?
It needs to be more efficient. You can go out this afternoon and buy a $100,000 Mercedes and by 4 o'clock, you can drive it home. But if you went out to buy a $100,000 house, it takes 30 or 45 days to take ownership. There's no reason for that. We've got to be able to work with our consumers on the terms they want, not on the terms we want.•
 
Please enable JavaScript to view this content.