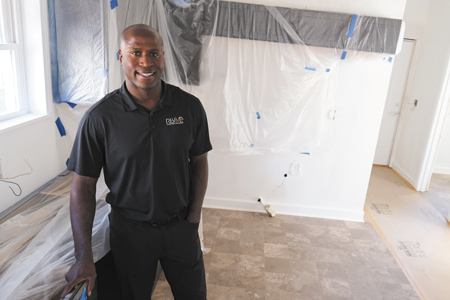 Former Indianapolis Colts cornerback Marlin Jackson thought back to his own upbringing in housing projects and rental properties outside Youngstown, Ohio, before starting his latest venture.
Jackson, 35, who has been working in youth development since wrapping up his pro career in 2010, had become interested in real estate but wanted it to have a higher purpose.

Through Revive Property Group and the related construction firm Revive Construction Group, which he founded in August 2017 with partner Scott Blyze, Jackson wants to "restore the affordable housing stock."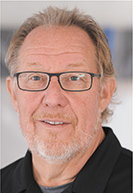 Blyze
Revive is working with the Indianapolis Neighborhood Housing Partnership and Near North Development Corp. to build two homes on North Graceland Avenue, each priced under $125,000.
The homes were built with federal subsidies and will be sold to low- or moderate-income buyers who earn less than 80 percent of the area's median income, according to developer Near North Development Corp., which hired Revive Construction Group as builder on the project. INHP owns the lots.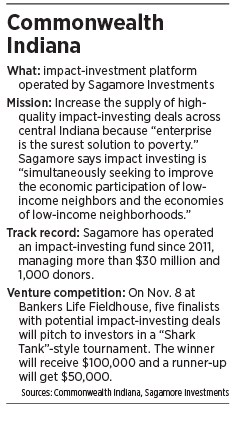 "Investing in people, not just real estate, is how you change a community," Jackson said. "It checks all my boxes in terms of purpose and social impact. I can use real estate to help change and develop people and stabilize broken-down and blighted communities."
Revive wants to grow and expand its impact. But there's just one problem: access to capital. Jackson said he and Blyze went through "numerous meetings with banks" before realizing private investment was a better path for his firm.
"Being a young company and a new startup, it's difficult to work with banks until you build a transactional history and a resume," Jackson said. "Then it becomes a bit easier."
Enter Commonwealth Indiana, a new impact-investing platform run by Sagamore Investments LLC, an impact-investing company owned and operated by the not-for-profit Indianapolis think tank Sagamore Institute. An impact investment is one that creates both economic and social returns for investors.
Jackson's firm is one of five finalists that will compete for funding on Nov. 8 in a "Shark Tank"-style competition at Bankers Life Fieldhouse that Commonwealth is staging for the first time. The finalists will vie for one $100,000 investment and one $50,000 investment. The money will come from soon-to-be-announced local investors, according to the Sagamore Institute.
Commonwealth winnowed the finalists from 80 applicants. Other finalists are RecycleForce, which provides industrial-recycling jobs for ex-offenders; Seedlings, a venture led by Scott Weaver, CEO of the local Safeway grocery chain, that seeks to provide healthy food in food deserts; NewDay, a faith-based addiction-counseling organization that aims to fight the opioid crisis; and developer BWI LLC, which wants to transform the historic Wigwam high school gym in Anderson into affordable senior housing.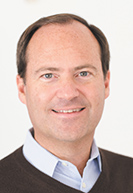 Hein
Though they tackle different problems, what the ventures have in common is that their missions are not solely focused on the bottom line.
Jay Hein, Sagamore Institute's president, said the competition, which he hopes to stage annually, kicks off Commonwealth's quest to increase and showcase the number of high-quality impact-investing deals in central Indiana.
Taking off
A 2018 survey from the Global Impact Investing Network found that $228 billion in assets is now at work in impact-investment initiatives, double the amount a year ago. Popular investments are in climate-change initiatives, along with financial services, energy, microfinance, food, infrastructure and health care, according to the publication Nonprofit Quarterly.
"The impact-investing space nationally is so new that it's a lot of things to a lot of people, and there's a lot of fog," Hein said. "Venture capital in 1980 is the corollary."
Hein, 53, who founded the think tank with former U.S. senator and current director of national intelligence Dan Coats in 2004, said impact investing is a natural next project for Sagamore to tackle. The idea goes back to Sagamore's overall philosophy to pursue private-enterprise solutions to poverty.

About One City Worlds Apart
This is the latest story in an occasional series examining the growing gap between the affluent and poor in Indianapolis and ways to address the problem. Read the earlier stories
here
.
"What a broken economy needs is investment capital and human capital development," Hein said. "There is a truth that enterprise defeats poverty and is the only thing that has defeated poverty in global history."
But the philosophy is not inherently anti-government or anti-relief, said Hein, who also served as director of the White House Office of Faith-based and Community Initiatives under George W. Bush.
"They're different things and solve different problems," Hein said. "You can't automatically say you favor market solutions. You have to create an environment where market solutions will work."
Introducing investors to local deals is a way to make the concept hit home.
Hein said central Indiana has dozens of opportunities to back impact-investing deals that would combat a broad range of challenges, but the problem is that no one knows about them.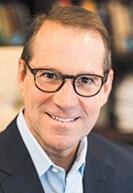 Johnson
Commonwealth aims to change that by shining a light on potential deals and providing consulting to businesses that might be primed to land investments. Commonwealth is not offering investment advice, he said, but instead "using research to reveal market opportunities to defeat poverty and revitalize neighborhoods" to investors.
"We have a pipeline here, and they're good," Hein said. "We need more visibility into these deals, and more like them. We want more investors more interested in these kind of deals."
The investments can take a variety of shapes, he said, from simple loans, to equity investments, to layering types of financing, including federal tax credits.
Investors will still strive for financial returns, though they'll likely be smaller, Hein said. But they will also get the satisfaction of contributing to fixing what he calls "broken economies" in poorer neighborhoods.
The companies will get a means of alternative financing besides banks, and potentially the opportunity to network with and receive assistance from local business talent.
Filling a need
The ability to compete for impact-investing deals is important to the future of BWI, said President Gary Hobbs. The company, which develops affordable and low-income housing properties, is "more than just brick and mortar only."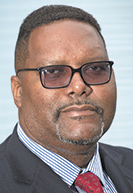 Hobbs
"It's creating the frameworks that allow nonprofits and the faith-based community to engage and interact with our residents and the communities we serve," Hobbs said.
But although his projects have "a good social return on them," he said, the financial return is "not as big as what other market-rate developers are doing."
Because of that, "our biggest challenge is really access to capital," Hobbs said.
"To have the opportunity to showcase some of our projects and our portfolio, to be able to talk about the social impact or return in conjunction with the financial return, is huge for us," he said. "We'll be able to do more of what we're already doing a lot faster if we have the backing of social-impact investors."
NewDay President Dan Johnson said the organization is hoping to expand and add inpatient services. "We have a model that we're implementing, but part of the vision we have is to replicate that model," Johnson said. "In order to do that, it requires a capital infusion."
Tapping into impact investing could provide the best of both worlds, he said: "an investor that has a mutual concern of both being a wise investor but also having a socially positive impact."
"Oftentimes, those two are mutually exclusive," Johnson said. "It's either philanthropy— interested in impact—or an investment dollar that's all about the return."•
Please enable JavaScript to view this content.