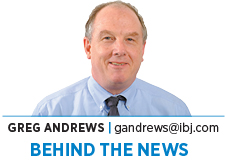 David Simon told analysts on a conference call last month that the Sears Holdings bankruptcy and the closing of dozens of Sears stores would end up as a financial win for Simon Property Group Inc.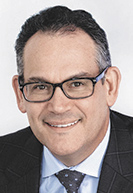 Simon
"We're going to be recapturing these boxes that pay very low rent, and we're carving them up," said Simon, the company's CEO and chairman.
He added: "The reclamation of unproductive space, specifically some department stores, is an unprecedented opportunity for us to dramatically enhance the productivity of the space and our centers overall."
Yet achieving that success is going to be a mall-by-mall challenge, and it's far from clear yet what the outcome will be for the two local malls with Sears closings—Castleton Square and Greenwood Park.
Castleton Square is a particularly intriguing puzzle. Replacing anchor stores is nothing new at the colossal property, which, at 1.4 million square feet, is the largest mall in Indiana. For example, after Montgomery Ward in 1997 filed for bankruptcy and folded, the Iowa-based department store Von Maur moved in.
And after Federated Department Stores bought rival department store giant May Department Stores for $11 billion in 2005, it consolidated stores under the Macy's brand and closed nearly two-dozen locations, including the L.S. Ayres at Castleton. Simon responded by demolishing the space and converting it into open-air shops, including the 14-screen AMC Theatres and the H&M clothing store.
Yet one complication this time around is that Sears—not Simon—controls the Castleton Square space. Simon confirmed that, while it owns Sears' Greenwood Park store, which is set to close by the end of the year, Sears itself owns the 20-acre Castleton property—which includes a 196,064-square-foot department store and 21,235-square-foot auto service center. Both businesses shut down last summer.
One possibility is that Simon would buy the site out of bankruptcy. But in bankruptcy auctions, there are no guarantees, and Simon might not end up getting to call the shots on the parcel. For example, Simon in 1998 had planned to replace the failed Castleton Montgomery Ward with a Lord & Taylor department store, but Von Maur swooped in and outbid it.
Another challenge for Castleton Square is that it is not the powerhouse it once was. Changes in retailing—including the growth of e-commerce—have chopped down the number of retail chains vying for space, making it tougher for mall operators to fill their largest properties.
In a conference call with analysts last month, Robert Dennis, CEO of Genesco, which owns Zionsville-based Lids Sports Group and other chains, said: "Even the A-minus malls, we're seeing rent-reduction opportunities," as the balance of power shifts away from landlords.
Then there's the reality that the opening of Hamilton Town Center off Interstate 69 in Noblesville in 2008 stole many of Castleton Square's most affluent suburban customers, leaving it more reliant on older neighborhoods to the south. Simon is half-owner of Hamilton Town Center.
At this stage, the only certainty about the Castleton and Greenwood Park Sears spaces is that they won't become another colossal department store. Few department store chains are thriving these days, and even if one wanted the Castleton and Greenwood spaces, its presence would do little to boost overall mall foot traffic.
"At the end of the day, maybe our industry got just too carried away with having all these big department-store boxes," David Simon said on last month's conference call.
Historically, when Simon replaced a vacant department store, it added more traditional retail. But that isn't necessarily the case anymore. A shining example of Simon's quest to think more broadly is Phipps Plaza in Atlanta's tony Buckhead neighborhood.
Simon last month broke ground on a $300 million redevelopment of a former department store site there that will create the city's first Nobu Hotel, a Nobu Atlanta restaurant, a 90,000-square-foot LifeTime athletic center, a 12-story office building and an outdoor event venue.
One tack Simon and other mall operators are embracing is experiential retailing—tenants that give shoppers not just the opportunity to buy stuff but also to do activities and have fun. One chain riding that wave is Japan-based Round 1, whose arcades feature bowling, billiards, karaoke and more. Its website lists 25 U.S. locations and another 14 in the works, including one in Louisville.
On the conference call, David Simon described the future of Simon's shopping malls in a much different way than he might have just a few years ago.
"Our investment in our product remains unabated, with a long-term view of creating compelling, integrated environments that serve as the hub of retail, dining, entertainment and socializing within their communities," he said.•
Please enable JavaScript to view this content.