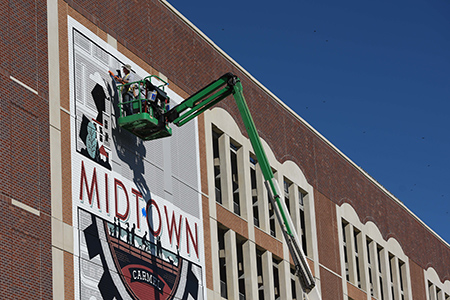 Redevelopment projects are dramatically reshaping several blocks along the Monon Trail in Carmel—and an end to construction isn't in sight.
Significant progress has been made in the past year to remake a blighted industrial section between the Arts & Design District and City Center into a mixed-use development called Midtown.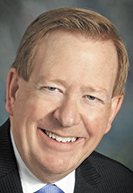 Brainard
For nearly a decade, Carmel Mayor Jim Brainard has pushed to transform the area from abandoned buildings with surface parking lots into multi-story apartment, office, retail and parking structures. The project will help complete redevelopment of Carmel's central core and connect City Center and the Arts & Design District into a seamless walkable urban environment.
Brainard's vision came to life in late 2014, when Carmel-based Old Town Development LLC—the development arm of custom-home builder Old Town Design Group—announced a $150 million development for Midtown.
Over the next two years, the project grew to include more developers and large corporations, including Allied Solutions, MJ Insurance and Merchants Bank.
Now, more than $210 million is expected to be spent constructing seven buildings, including three parking garages. The city of Carmel has dedicated $65 million in tax money to pay for the parking garages and upgrades to the Monon Trail.
This year, Allied Solutions, the Sun King Taproom & Distillery and most recently MJ Insurance have celebrated grand openings, while construction began on the residential components of the project as well as a public plaza and greenway expansion.
Carmel is spending about $20 million to widen and transform the Monon through Midtown. The project, which is under construction now (the trail remains open), will convert the 12-foot-wide pedestrian-and-bike path into a 140-foot-wide corridor with parking spaces, green space, bike lanes, one-way streets, and a plaza near Sun King.
Meanwhile, redevelopment along the Monon in other sections of Carmel is gaining momentum. In City Center, site work on the city-owned hotel, The Carmichael, has begun. And south of that, a project known as The Proscenium is under development on 6-1/2 acres west of the Monon near Rangeline Road and Carmel Drive.
The city is also preparing to close on its purchase of the Monon Square shopping center, along the trail between City Center and Midtown, which will eventually be redeveloped.
Last fall, Old Town Development and partner Indianapolis-based Ambrose Property Group opened a 135,000-square-foot, five-story office building in the northeast corner of Midtown.
Allied Solutions—a firm that sells insurance, lending and marketing products to financial institutions across the country—moved in a year ago and celebrated Midtown's first grand opening in January.
Indianapolis-based real estate firm F.C. Tucker leases about 15,000 square feet on the first floor of Allied Solutions' facility. The building also includes a public parking garage and 3,000 square feet of ground-floor space reserved for retail, which will likely be a restaurant, though a tenant has not been announced.
This summer, construction was completed on Sun King's taproom and distillery. The facility, which includes a food hall with four micro-restaurants, opened in July. It features a rooftop deck that overlooks a public plaza.
Carmel Redevelopment Commission Executive Director Henry Mestetsky said he's yet to walk by the distillery when it isn't busy.
Sun King and 3UP, a rooftop lounge that's part of the Monon & Main development under construction about a quarter mile north of Midtown, represent the next phase of maturing the city's core by providing residents something to do after 9 p.m., Mestetsky said.
Also completed this year is the building that now houses MJ Insurance's headquarters.
The insurance company moved into the 80,000-square-foot office building by Old Town in August and held a grand opening in October. MJ is occupying about 30,000 square feet in the four-story building. Leasing for the rest of the building is ongoing.
Brainard told IBJ it's gratifying to see people enjoying Midtown, even amid construction.
"I think everyone living and working in the area is excited," he said.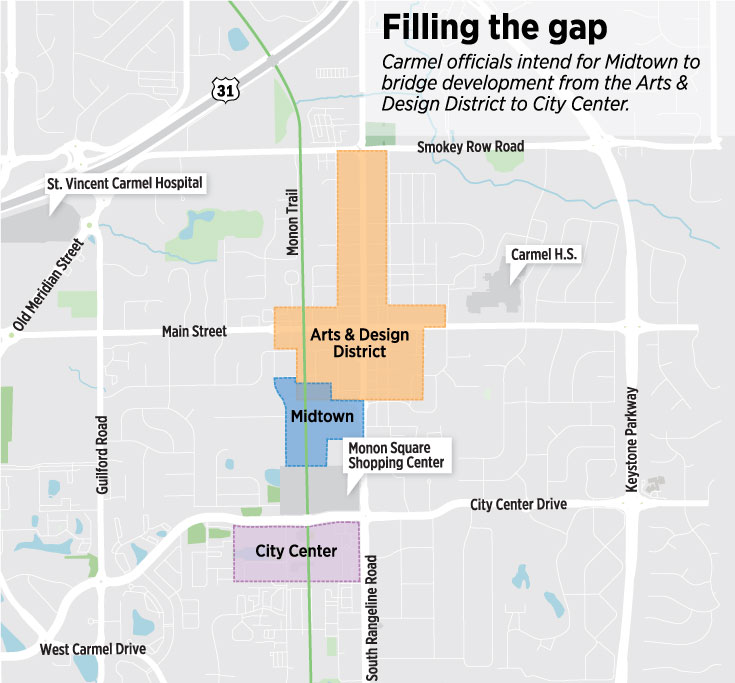 Still to come
Now, two residential Midtown projects are under construction—one on each side of the Monon—as well as Merchants Bank's new corporate headquarters.
"On the east side of the trail, J.C. Hart is building a 206-unit apartment complex, which should be complete by mid-2019.
The bank and a 208-unit apartment complex are part of Barrett & Stokely's portion of the project and are under construction on the west side of the Monon.
The bank building will be five stories tall, with Merchants Bank occupying the top three floors, leased office space on the second floor, and retail and a bank branch on the first floor.
Bryan Barrett, president of Barrett & Stokely, said steel work on the bank is nearly complete. A private, 150-space parking garage is already finished, he said. The rest of the building is expected to be done next summer.
The Railyard at Midtown, Barrett & Stokely's residential project, will include first-floor retail and is expected to be finished by early 2020, he said.
Barrett and Stokely has yet to finalize tenants for the retail portions of its project, but Barrett said the buildings are being constructed with restaurants in mind.
"It's amazing how, you know, when I talked about this project a year ago and tried to explain it, it was really hard for people to visualize," he said. "Now that there's a lot of construction going on up there and what's going on with the Monon is visible, people are starting to really understand it. We're starting to get a lot of general interest from restaurants on the retail."
Barrett said his company will be somewhat choosy about tenants, looking for local restaurants that can offer something special and complement what's already there.
"It's probably not going to be a steak house or a burger house. We want to look around," he said.
In addition to what's under construction in Midtown, two blocks of land between First Avenue Southwest and South Rangeline Road have been earmarked for future development.
So far, no plans have been filed with the city for those blocks, Mestetsky said. That development is likely to wait until current construction is complete, he said, but won't be difficult to fill.
"There's not a hotter piece of real estate than Midtown Carmel today," he said. "It will be really cool when all of these apartments are open and the urban Monon is 140 feet wide. There will be people everywhere."
Nearby development
For those using the Monon Trail, it might be difficult to decipher where Midtown construction begins and ends because unrelated development is underway both north and south of Midtown, Mestetsky said.
Just north, construction is ongoing on the Monon & Main mixed-use development at the southwest corner of Main Street and the Monon, where Ritz Charles owner Chuck Lazzara and his son Anthony Lazzara recently opened Anthony's Chophouse and the rooftop lounge, 3UP.
The project also includes seven town houses, offering high-end, for-sale housing in the city's central core, which has historically been limited, Mestetsky said. The homes, which are currently under construction, are expected to sell for $1 million or more, he said.
To the south, site work has begun on The Carmichael at City Center. The 122-room hotel, which will be part of the Autograph Collection by Marriott, will sit between the Monon Trail and Veterans Way, south of City Center Drive.
Bidding for the hotel, estimated to cost $40 million, is ongoing. Financing—$15 million from bond proceeds and a $25 million construction loan the redevelopment commission is backing—has been lined up, Mestetsky said. Construction is expected to begin by spring.
South of City Center, at the northwest corner of Rangeline Road and Carmel Drive, Anderson Birkla Investment Partners LLC is building a $70 million mixed-use project called The Proscenium. The project is expected to include nearly 400,000 square feet of residential, retail and office space among six three- to four-story buildings. It will also feature a central plaza with an upscale restaurant and a 449-space underground parking garage. The project redevelops the former Party Time Rental warehouse that had been an eyesore for years.
And the city is preparing to close on the sale of the Monon Square shopping center for $15 million. Plans for the retail strip—along Rangeline Road and adjacent to the greenway—are a mixed-use development with apartments, retail and office space.
Mestetsky said redevelopment of that site is likely still years away.•
Please enable JavaScript to view this content.