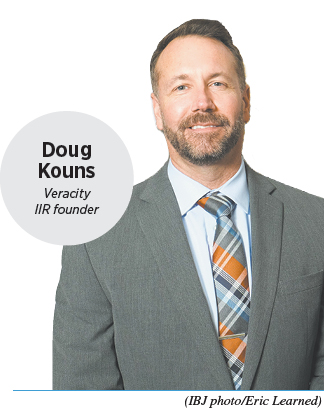 Doug Kouns spent 20 years in the FBI before retiring to launch his own intelligence, investigations and research firm in Carmel. Called Veracity IIR, the firm serves corporate and legal clients by offering a variety of investigative, risk-management and threat-mitigation products. In the FBI, he spent time in South Dakota working on Native American reservations.
Tell us about your background.
I'm from Blackford County. I graduated from Ball State [in 1991]; I got a master's in business administration later. I was a high school chemistry teacher at Delta High School and briefly went into the electroplating industry. That's when I was first exposed to the FBI. I was selling a personal car, and the guy that bought it was an FBI agent. I brought up to him that I used to have a junior high English teacher who left during the year to become an FBI agent. It turns out that person was back in Indianapolis. He and I met for lunch, and he got me interested in sitting for the test. About a year later, I was off to the academy.
You were a chemistry teacher first, but did you always want to be in the FBI?
No. I always thought it was interesting. I like Tom Clancy books and spy kind of stories. When I met that FBI agent, he could tell I was interested. … It just seemed exciting and something that was a meaningful occupation.
What kind of cases were you assigned to?
My first assignment was in Sioux Falls, South Dakota. … Up until Sept. 11, my cases were almost 100 percent on the Indian reservations—crimes that occur on federal land fall under our jurisdiction—so, assault, drug cases, child abuse, corruption, some theft, a little bit of everything. It was more … community policing. It was a good experience; it was rough sometimes with the violence and poverty and drugs. … Then Sept. 11 happened, and our office decided to make me the counter-terrorism, counter-intelligence guy. … That's when I started getting more specialized training in those things. I also became the weapons of mass destruction coordinator for that area at the time. That was a pretty good fit with my chemistry background.
Why did you leave the FBI to start your own business?
It was an idea I had in my head for some time, especially having gotten my MBA. I wanted to put some of the skills into action. I was about to reach retirement age, and I started doing the math on what my pension would be and whether or not I could afford to retire at a younger age. … I thought, "I think I'll go ahead and do this [start his own business] while I'm younger," and I put my papers in in June.
Tell us about the team you've assembled.
I convinced Kathy [Guider] to make the plunge with me. We have another former agent [Lori Achilles] who works out of her home in Chicago, a former analyst from the CIA [Jillian Dardani] who works out of her home in Denver. … Lori is a CPA as well, and she's the director of our financial fraud division. She worked on the Bernie Madoff case when she was in New York. Jillian did a lot of work with the aftermath of the Bin Laden raid.•
Please enable JavaScript to view this content.