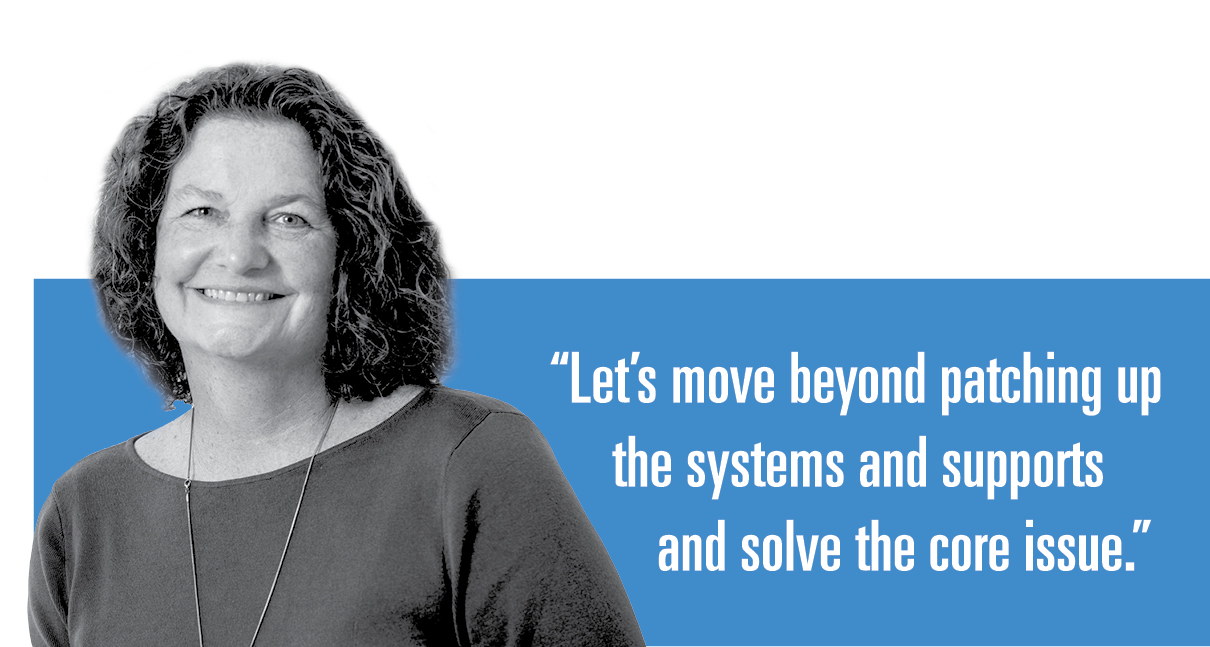 Through Community Solutions—which she founded in 2000—Lena Hackett has worked aggressively on criminal justice reform strategies and brought national models and practices to Indianapolis. The principal driver behind the Marion County Re-entry Coalition, she has also served as local liaison for the Annie E. Casey Foundation, managing its 10-year "Making Connections" initiative to improve lives in the Martindale-Brightwood and Southeast (Fountain Square) neighborhoods.
Affiliations: Hackett serves on the board of Asante Children's Theatre, is a board member emeritus for Dove Recovery House, and is a commissioner for the Metropolitan Development Commission.
Rising up: "When it came time for college, I did not know what I wanted to be." A bachelor's in dietetics from Purdue University sounded like a good idea and led to dietitian work at a Greenwood nursing home and then for the Marion County Public Health Department. Next stop: a high-risk prenatal clinic affiliated with then-Wishard Hospital. Gleaners Food Bank then received funding to launch an advocacy effort against hunger, and she moved there as director of that work and earned her master's degree in public health policy through the University of Michigan's On Job/On Campus program. While leading an effort to combat homelessness, she got a call from U.S. Rep. Julia Carson, which led to her joining Carson's staff and spending more than two years "learning more about the realities of racism, poverty and injustice than anyone could ever learn from an educational institution." The work she did led her to form Community Solutions. "I wish I could say it was a well-thought-out, planned path," she said, "but it was really a seizing of opportunity, a constant quest for new experiences, and a digging deep until I got to the core of what I knew was right for me."
Turning point: Accepting the job with congresswoman Carson. "It required me to bring my 'A' game every minute of every day. … It cemented in me that I wanted to be one of the good guys."
Mentor: Her mother. "A strong family does not just happen. You need to be as fierce about your family as you are about anything in your life." 
Pride point: Community Solutions was responsible for the local commemoration events honoring the 50th anniversary of the assassination of Martin Luther King Jr. and Robert Kennedy's famed speech in Indianapolis. The planning included civil rights leader U.S. Rep. John Lewis; Kennedy's daughter, Kerry; Indiana's congressional delegation; Gov. Eric Holcomb; and Mayor Joe Hogsett. "It was a pure example of a 'we' effort with everyone showing flexibility, creativity and above and beyond hard work," she said.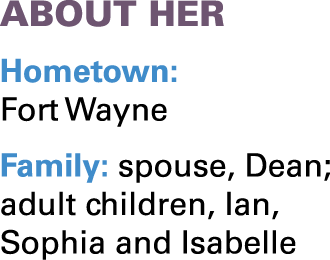 Downtime: Theater and time with friends and family ("Adult kids are fun!")
Inspiring book: "The Children" by David Halberstam and poems by Daniel Ladinsky
Change she'd like to see: "A focus on resolving the core issue of poverty. Let's move beyond patching up the systems and supports and solve the core issue."•
Please enable JavaScript to view this content.