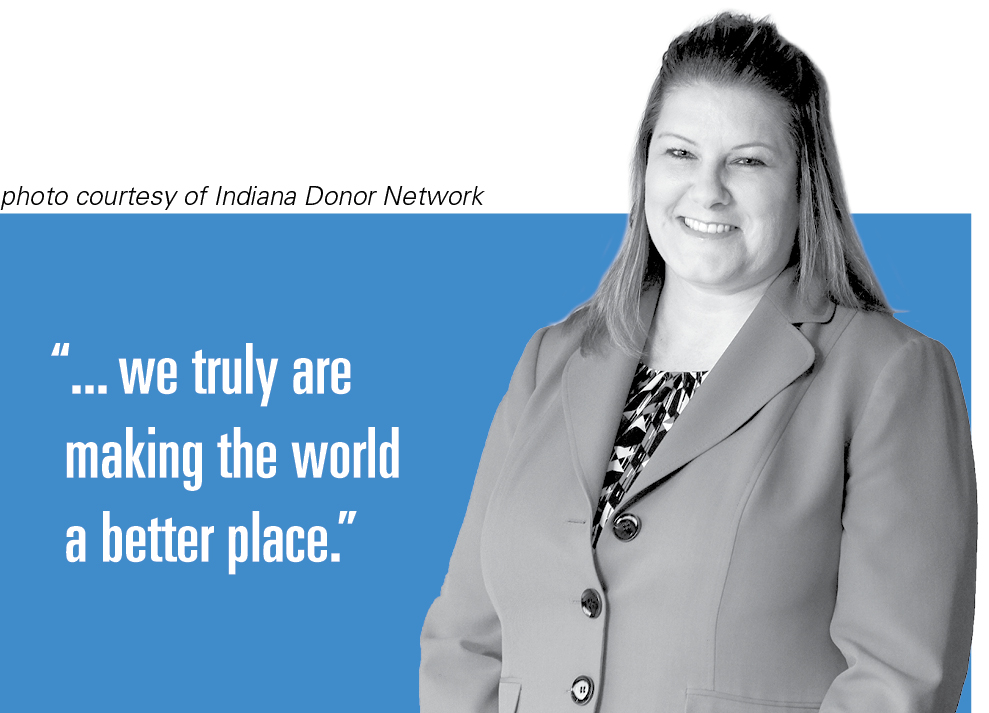 In 2000, Kellie Hanner joined the Indiana Donor Network (then the Indiana Organ Procurement Organization), which now covers 85 Indiana counties. Since rising to the top spot in 2012, she led the organization to a 16.5 percent increase in organ transplants (through 2017) and a 58 percent increase in tissue donors in that same period. Under her guidance, TxJet Inc., a 501(c)3 subsidiary, launched to provide aviation transportation of life-saving organs and transplant teams. In the process, the organization has grown from 100 to more than 170 employees.
Affiliations: Hanner serves on the boards of the Indiana Donor Network, the Indiana Donor Network Foundation, the Association of Organ Procurement Organizations, Community Blood Center/Community Tissue Services, TxJet, Indiana Anatomical Education Program and the Indiana Hospital Association Management Institute.
Rising up: Hanner earned a bachelor's in nursing from Indiana University and an MBA from Indiana Wesleyan. "I worked as a student nurse in the ER at Riley Hospital for Children, and when I graduated from nursing school, I took a job in the Pediatric Intensive Care Unit at Riley Hospital. It was there, in 2000, that an organ donation case was being performed and I found it fascinating and decided to apply at Indiana Donor Network." She joined as procurement transplant coordinator but soon was bumped up to director of quality and tissue services, chief operating officer and then president and CEO. 
"Made it" moment: "One day, after becoming CEO, I had a meeting with an external partner in the industry," recalled Hanner. "He made a comment to me that I was the youngest CEO in the organ donation industry. It struck me then that I had actually 'made it,' especially given that I was 37 at the time I became the CEO." 
Mentor: "In 2013, I took a chance and hired a chief operating officer, Steve Johnson, from outside the organization. His influence and business acumen have made me a better leader and have made this organization much more successful than we possibly could be without him."  
Pride points: "I am most proud of the impact that our team has every day on the lives of others. … Ultimately, what is most fulfilling about the amazing work that is performed here every day is that we truly are making the world a better place." 

Downtime: Reading, baseball and all sports 
Change she'd like to see: "Currently, there are approximately 115,000 people waiting for a life-saving organ transplant. I would like to see a day where my company is actually put out of business because no one is waiting to receive the gift of life."•
Please enable JavaScript to view this content.