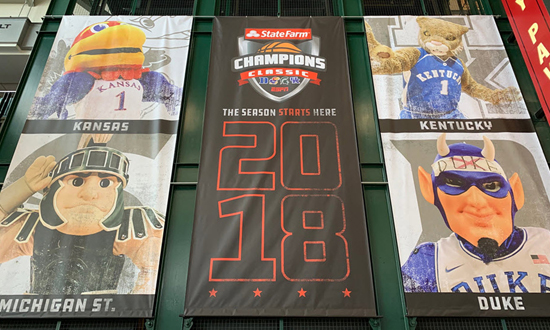 The promoter of a national college basketball tip-off event played at Bankers Life Fieldhouse Tuesday night says it plans to keep Indianapolis in the long-term rotation for hosting the event.
ESPN Events Vice President Clint Overby said Wednesday the Champions Classic games between Michigan State and Kansas, and Duke and Kentucky – all top-10 teams across multiple college basketball preseason polls – were successful, netting full sellouts of the downtown arena.
Overby said ESPN and the four schools, each of which have been involved since the double-header began in 2011, were "extremely pleased" with the crowds at each game, and with the overall environment surrounding the event.
"I think it was an announced sellout, so it was exactly what we were hoping it would be," he said. "The attendance was outstanding; it always has been with this event."
The final official announced attendance number for Tuesday's games was 18,907, a sellout, according to Bankers Life Fieldhouse spokesman Brent Rockwood.
The games were televised for a national audience, with No. 1 Kansas beating No. 10 Michigan State 92-87 in the first game and No. 4 Duke dealing a 118-84 blowout to No. 2 Kentucky in the second game.
Overby said Indianapolis is locked into the rotation of cities that host the event and he's eager to bring it back here in 2022.
"Indianapolis sits in a very geographically advantaged spot, based on … the solid venues that are here, the hotels, and all that goes on," he said. "It made logical sense to the four schools and us that this would be one of our locations."
Other cities in the rotation include New York City and Chicago, though Atlanta has also hosted the event once, in 2012.
Rockwood said Bankers Life Fieldhouse has had a strong relationship with ESPN Events, and that the venue is eager to continue working with the group on future Champions Classics and other events.
Overby said ESPN Events, the in-house promotion and event planning division of ESPN, generally bids games several years in advance and works with venue staff directly, rather than working through an intermediary such as the Indiana Sports Corp., which has helped Indianapolis land large-scale sporting events including the Super Bowl, College Football Playoffs and Big Ten conference championship games.
 "We really didn't see the need to tie up their time with this event specifically, knowing we had our needs already met," Overby said. "The pathway exists for us to work directly with the facility."
Indiana Sports Corp. President Ryan Vaughn said while the organization was not involved in attracting the Champions Classic to the area, events of that caliber help present the Indianapolis area as a booming destination for athletic competitions.
"I think it really helps our area and helps continue to present us as a big sports city," he said. "We love getting events like this and are happy that a lot of people are expressing excitement over this."
Vaughn said sporting events, particularly those that pit well-known teams against one another on a national stage, are big economic boosters, though he didn't cite specific numbers related to their impact.
He said having well-known teams — each of which have played in or won the NCAA National Championship game in the last 10 seasons — is a big draw, too.
According to Chris Gahl, senior vice president for VisitIndy, this event likely had a "healthy, seven-figure impact" on the local economy. The games, along with election activities and a convention, helped make downtown hotel rooms a sellout.
Overby said venues like Bankers Life Fieldhouse in cities with sports cultures like Indianapolis are what the group looks for when it evaluates potential host cities, but he said there are no immediate plans to add other ESPN-backed events to the central Indiana market.
He said the NCAA's decision to move up the start of college basketball season from Friday to Tuesday also made a significant, positive impact on the games. He hadn't seen the television ratings for the games and said he wasn't sure what impact the midterm elections may have had on the numbers.
"That decision was one made by the NCAA," he said. "But we certainly were happy to be part of helping the season kickoff."
TV ratings for the games were not available by early Wednesday afternoon.
Please enable JavaScript to view this content.