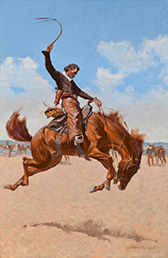 "A Buck-jumper," a painting by Frederic Remington, has been rehung in the Eiteljorg Museum's Western art galleries. (Photo courtesy Eiteljorg Museum of American Indians and Western Art)
The Eiteljorg Museum of American Indians and Western Art will unveil its newly renovated Western galleries Nov. 10 as part of the opening of "Attitudes: The West in American Art."
The exhibit includes paintings and sculptures from the museum's collection as well as newly acquired works and new interactive displays.
The Western galleries—two connected spaces on the building's ground floor called Art of the American West Gallery and the Gund Gallery of Western Art—had not undergone a significant update since the museum opened in 1989.
Eiteljorg officials said the goal of the renovations is to present "more vivid, compelling interpretations of the artworks and creating a stronger, more personal visitor experience."
"With the Eiteljorg Museum approaching its 30th anniversary, it was the right time for us to reimagine the Western art galleries with a new approach to serve our visitors in the future," said Eiteljorg CEO John Vanausdall in a statement.
Several favorite pieces have returned to the galleries, including paintings by Georgia O'Keeffe, Frederic Remington, Albert Bierstadt and Charles Russell as well as sculptures by Remington, George Carlson and Allan Houser. The museum has used grants to clean, conserve and reframe several of the pieces.
New pieces meant to emphasize the diversity of Western artists include works by 19th century African-American painter Grafton Tyler Brown, contemporary Chinese-American painter Mian Situ and Native American artist Susan Folwell.•
Please enable JavaScript to view this content.