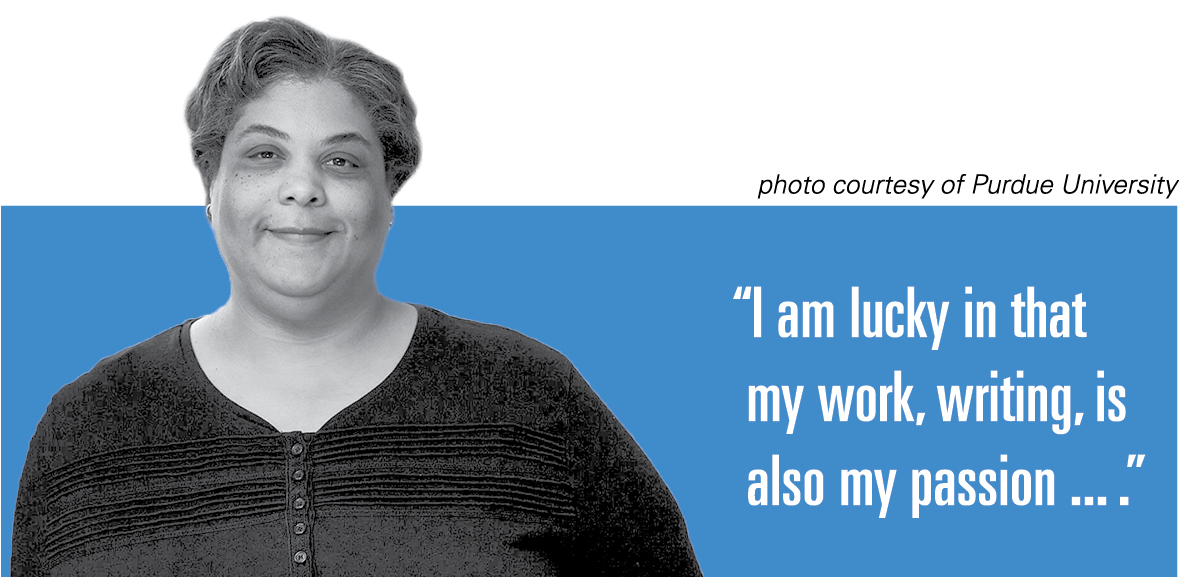 Roxane Gay is one of the hottest feminist writers in a time that is celebrating feminism. The Purdue professor's provocative novels, nonfiction books, short stories and columns attack race, body image, politics and sexuality. She's the author of The New York Times best-sellers "Bad Feminist" and "Hunger" as well as the short-story collection "Difficult Women." She is currently on leave from Purdue and is working on film and television projects as well as a novel titled, "The Year I Learned Everything." Gay plans to return at the end of this school year to the university, where she teaches fiction and creative nonfiction to undergraduate and graduate students.
Affiliations: Gay is a member of the National Book Critics Circle, Associated Writing Programs, Omicron Delta Kappa, PEN America, and the Writers Guild of America. She is also a contributing opinion writer to The New York Times, founder of the publishing house Tiny Hardcover Press, and serves on the advisory board of literary and art platform The Rumpus.
Rising up: The daughter of Haitian parents, Gay was just 12 years old when she was the victim of a gang rape that would alter her life in ways that still impact her writing, body image and attitudes. She attended an elite boarding school—Phillips Exeter Academy in New Hampshire—where she started writing daily. She attended Yale University, dropped out and then finished her bachelor's at Norwich University in Vermont before earning a master's in English from the University of Nebraska-Lincoln and a doctorate in rhetoric and technical communication from Michigan Technological University. Writing was the constant throughout. "I've held all kinds of jobs, including working in communications for the College of Engineering at the University of Nebraska-Lincoln. I did student loan consolidations for Nelnet. I worked at Gallup. No matter what I did for a day job, I wrote." In 2010, she became an assistant professor of English at Eastern Illinois University, and four years later joined Purdue as an associate professor of English.
"Made it" moment: "I first felt like I made it after 'Bad Feminist' hit The New York Times bestseller list and went on my first significant book tour."
Mentor: Author Tayari Jones. "When my first novel was coming out, she reached out and offered invaluable advice on navigating the writing world as a black woman writer. … I admire the way she creates a strong sense of community among black writers."
Pride point: Gay recently won a 2018 Guggenheim Fellowship. She was nominated in the field of nonfiction writing and is among 173 scholars, artists and scientists selected from nearly 3,000 applicants. She plans to use her portion of the Guggenheim grant to work on a collection of essays titled "TV Guide," which will explore television and American culture.

Downtime: "I am lucky in that my work, writing, is also my passion, but I love reading, movies, playing Scrabble, travel and cooking."
Inspiring book: "The Age of Innocence" by Edith Wharton
Change she'd like to see: "I would love to see more diversity in publishing, both in terms of who gets published, but also who manages the publication process within publishing houses."•
Please enable JavaScript to view this content.