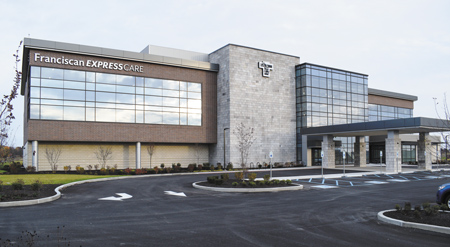 Franciscan Health has opened an 87,000-square-foot clinic in Greenwood offering urgent care, primary care and specialty care. The clinic, at 1703 W. Stones Crossing Road, opened Nov. 14. It is called Franciscan Health at Stones Crossing.
With a price tag of $35 million, it's the biggest investment for Franciscan in central Indiana since it spent $300 million from 2009 to 2012 to expand its flagship South Emerson Avenue campus.
The move represents a big push for Franciscan, as it tries to expand its share of the Johnson County market in the face of increasing competition.
The clinic is a scaled-back version of the original proposal, which included a 20,000-square-foot hospital with eight overnight beds and an emergency room, with a total price tag of $50 million. Franciscan quietly dropped the inpatient and emergency department portions of the project, saying that "micro-hospitals" are running into questions from regulators and payers, causing too much uncertainty.
Construction on the three-story clinic started in summer 2017. It is open every day from 7 a.m. to 11 p.m.
Please enable JavaScript to view this content.