The setbacks the Holden family suffered while moving their thoroughbred farm from Colorado to Indiana last November might
have spooked a less cool-headed stock.
First, thieves took their truck
and trailer from a motel near Kansas City, Mo. Then, not long after the Holdens
set foot on Hoosier turf, their main stud broke a leg.
"It's
not for sissies," 68-year-old Arven Holden said of the racehorse-breeding business. "You
gotta be committed to it to get the job done."
It also helps to keep an eye on the prize. Purses at Hoosier Park in Anderson and Indiana Downs in Shelbyville
have swollen since the two tracks added slot machines in June 2008. Under the state law, the "racinos"
share 15 percent of their adjusted gross revenue with horsemen. The slots money, $57.5 million in fiscal
2009, beefs up purses and supports horse racing in general.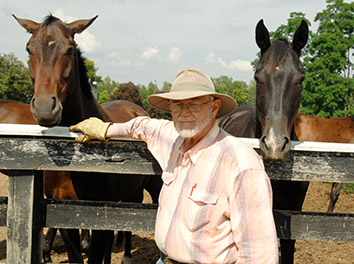 Arven Holden with two of his
thoroughbreds on his farm east of Greenfield. (IBJ Photo/Robin Jerstad)
The
promise of slots was that the new revenue stream would help grow horse racing as an industry (in
addition to bolstering revenue for the cash-strapped state). While the Holdens are still a rare example
of breeders moving an entire farm, a comeback appears to be materializing.
"We could have one of the best horse-racing states in all of North America in just a couple of
years," boasted Tim Konkle, co-owner of the monthly harness-racing magazine Hoosier Horse Review.
Other horsemen are more measured in their assessment
of the industry's revival.
"The goal is to buy a farm up
here," said Jim Hartman, a Hamilton County resident who boards his thoroughbreds
in southern Indiana. "But just like everybody else, I'm in a wait-and-see
mode."
Horsemen got their long-awaited slots just as gambling
in general runs up against a host of problems. The racino operators are struggling
under heavy debt, and looking for relief from the Legislature. Neighboring states soon will introduce
new competition. All this comes as the economy takes a bite out of potential bettors' disposable income.
Even before the slot revenue began flowing, horse racing was a subsidized business. The horsemen
formerly received a share of riverboat casino revenue. That money bolstered Hoosier Park after
it opened in 1994. But the revenue source—capped at $27 million—proved insufficient after
Indiana Downs opened in December 2002.
Leading
indicators
The link between bigger purses
and breeding activity is obvious.
Hoosier Park recently announced a
second increase in average daily purses to more than $214,000 for the remainder of the thoroughbred
season, which concludes Oct. 24. The season began July 30 at $190,000.
The current average is up 50 percent from $142,000 in July 2008.
Breeding picked up soon after the slot legislation passed in 2007. The number of registered thoroughbred
mares jumped 45 percent, from 711 in 2008 to 1,033 this year. Many of those horses, 38 percent, have
out-of-state owners.
Breeding for harness racing surged as well. Jessica
Barnes, director of racing and breed development at the Indiana Horse Racing Commission,
expects the number of standardbred mares to hit 2,500 in 2009. That would be the highest level of breeding
for the trotters in at least nine years.
Horse owners might not be
the only source of new investment. Purdue University's School of Veterinary
Medicine started talking about building a horse hospital near Shelbyville as soon as the slot legislation
passed in 2007.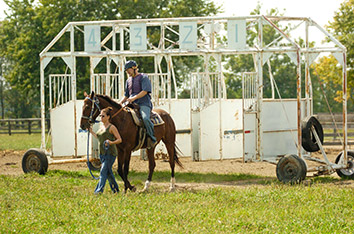 Dawn Holden walks a horse ridden by her husband, Jay, through the starter gates to acclimate the horse. (IBJ Photo/Robin
Jerstad)
"We came into this with the idea that we wanted to support the growing equine racing industry,"
Dean Willie Reed said.
Shelbyville and Shelby County have committed
$2.3 million toward the $10 million project. Reed hopes construction could start in 2012.
Racing industry advocates hammered on economic development when lobbying
for the slots. The racing commission hasn't updated its last official study,
which dates to 1999 and pegged the economic impact at $130 million.
Konkle, the racing magazine owner, believes the numbers would be much higher now. In harness racing alone,
he said, at least 100 families whose work is tied to the sport have moved to Indiana. New training centers
have opened near Anderson and Shelbyville, he said, and existing farms have expanded.
Konkle, who also works for the Indiana Standardbred Sales Co., has his own way of measuring
the industry's potential. He counts the number of catalogs requested ahead of the annual auction,
scheduled this year for Oct. 10. He's mailed 1,112 catalogs for the upcoming
auction, compared with 800 last year, and 200 two years ago.
"It's
not just a comeback," Konkle crowed. "It's an explosion."
The real economic impact will come when purses are large enough to drive up the price of horses at auction, said Ed Martin
Jr., a former Indianapolis car dealer who has a large thoroughbred farm in Ocala, Fla. (He sold his dealerships to family
members four years ago.)
"It's heading that way,"
he said. "It's just not there yet."
Each type of race—harness, thoroughbred and quarter horse—has a different way of splitting
the purse. On top of the standard cuts, owners who win with horses bred in Indiana receive substantial bonuses, often thousands
of dollars. That's the key incentive for buying Indiana stock.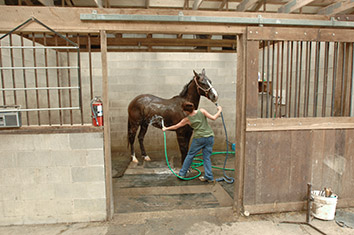 Dawn Holden washes a horse after
a workout. (IBJ Photo/Robin Jerstad)
Martin said he'd like to start
a farm in central Indiana, but first he wants to see how the Legislature responds to the casinos'
woes.
Each of the tracks paid a $250 million one-time fee for the privilege
of adding slots. They also pay 19 percent of their adjusted gross revenue to various
interests, including 15 percent to the horsemen. Another 3 percent goes to the local
communities, and 1 percent goes to the casino in French Lick.
At Indiana
Live alone, AGR in July was $19.1 million. Though horsemen want to see the casinos thrive, they also
want to keep their 15 percent.
Wagers on the ponies
alone just aren't high enough to support the industry, Martin said.
"The paradigm has shifted," he said.
Risk-reward
Arven Holden and his son, Jay, estimate
they've invested $800,000 in the move to Indiana. They bought a 105-acre farm outside
Greenfield, where they keep 95 horses, including 25 foals.
"Everything
that me and my son and wife and families have made in our lifetime, it's going
to cost us to move here," Holden said. "But it's worth it."
One reason Holden feels optimistic about Indiana is that racing in his home state, by comparison,
was dismal. The number of dates in Colorado had dwindled to 37, compared with 125 here.
A retired postal worker, Holden didn't have the means to start up in
a hotbed like Kentucky. By living within a few hours of tracks in the bluegrass
state, Ohio and Chicago, Holden hopes to race year-round.
The Holdens
are well aware of the source of Indiana breeders' rising fortunes, and they aren't
about to stand idly by. Jay Holden is on the board at the Indiana Thoroughbred Owners and Breeders Association.
"We're trying to be on the political end of the horse
business," Arven Holden said.•
Please enable JavaScript to view this content.