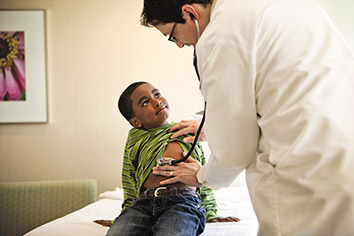 After years of relying on thousands of small donations raised from dance marathons, lemonade sales, car washes and other events, the Riley Children's Foundation is in the midst of an ambitious capital campaign to raise $175 million by 2020.
The foundation, the fundraising arm of Riley Hospital for Children, plans to officially present its "Be the Hope Now: The Campaign for Kids" at a luncheon Wednesday at the JW Marriott Indianapolis Downtown.
The money will be used for pediatric research, patient care, maternity and newborn health, and family support programs. It's the foundation's first capital campaign since 2010, when it raised $200 million.
Foundation leaders say they have already raised $121 million toward the $175 million goal. That amount came from more than 300,000 donors who have contributed since July 2015.
Of those donations, 20 have been gifts of $1 million or more. A $5 million gift came from an anonymous donor and was specifically designated for Riley's Maternity and Newborn Health program.
An outside spokesman for the foundation said it's common for capital campaigns to begin quietly and refrain from a public launch until the foundation has raised at least half of the goal.
In advance of the campaign's formal rollout, the foundation is sharing information through videos, brochures and other materials on its website. A video clip shows a montage of children who were treated at Riley Hospital for serious conditions.
"Caleb got his heart transplant and grew into a happy second-grader," the video says. And at another point: "Caroline went from life support to fun in the sun!"
The campaign says the need for funds at Riley has never been greater, and the money helps with lifesaving research and care.
"One in every eight children diagnosed with cancer will not survive without new discoveries," said David Ricks, chairman of the Riley Children's Endowment Board of Governors and CEO of Indianapolis-based Eli Lilly and Co., in prepared remarks. "That is why Riley Children's Foundation is committed to raising money now to fund the necessary research to save the lives of those children."
Riley will use some of the money to fight Indiana's high infant mortality rate by hiring more maternal fetal medicine specialists, who treat high-risk pregnancies and can diagnose problems early.
"The mom could be high risk, with diabetes or high blood pressure," said Matthew Cook, president of Riley Hospital. "Or maybe there's a heart condition in the fetus. One of the challenges we've had in Indiana is that these women would go undiagnosed."
Riley Hospital now has 10 specialists—about double the number of two years ago. Last year, the specialists handled more than 11,000 patient visits.
Another use for the funds, he said, is to support work at the Wells Center for Pediatric Research, which is across the street from the hospital. Last year, researchers there published 181 new studies related to pediatric medicine. Riley uses the philanthropic dollars as seed money for research, and uses it as a springboard to attract more money from the National Institutes of Health.
Riley Children's Foundation is already the largest health foundation in central Indiana, with assets of $359.7 million as of June 2017. That's more than the combined assets of St. Vincent Health Foundation ($105.4 million), Eskenazi Health Foundation ($81.3 million), Community Health Network Foundation ($47.6 million) and Franciscan Health Foundation ($17.5 million).
It even dwarfed the Indiana University Health Foundation, the fundraising arm of the state's largest health system, which was formed last year to consolidated multiple IU Health foundations around Indiana, and has net assets of $137.8 million. (That does not include fundraising at Riley, which has been part of IU Health since 1997.)
The foundation raises tens of millions of dollars a year, mostly through small gifts and volunteer fundraisers, from bake sales to golf outings.
Last year, the foundation raised $41 million in contributions and grants. During the past 20 years, it raised about $500 million, the majority of which has been spent for pediatric research and patient programs at Riley Hospital.
The foundation, formed in 1921, raised the funds that opened Riley Hospital three years later.
Last year, Riley Hospital had 237,773 outpatient visits, 46,976 emergency visits, 24,356 admissions and 14,676 surgery cases, making it one of the busiest hospitals in Indiana.
Please enable JavaScript to view this content.