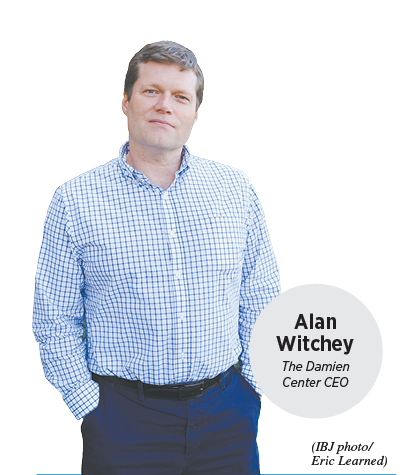 Alan Witchey, 51, didn't actually want the job of CEO and president of The Damien Center when he was approached by the not-for-profit's board.
He was executive director for the Coalition for Homelessness Intervention and Prevention of Greater Indianapolis and enjoyed that job. But as he spoke with staff and clients, he realized the role at The Damien Center perfectly tied together all his skills. So in August, Witchey became head of Indiana's oldest and largest AIDS service organization.
This is not your first time working for The Damien Center. What was your previous experience with the organization like?
I first worked for The Damien Center in the '90s and early 2000s. It was the very early years of the epidemic. People were dying very quickly. The job really was to help people die with dignity and compassion. It was a very sort of complicated, difficult time because there were no treatments.
I worked here for over six years and then left because I moved to California. At that time, I took over as president and CEO of the AIDS Services Foundation of Orange County, which is in Irvine, California.
Then I came back to Indiana … and for a few years, I kind of stepped out of the HIV/AIDS world. I was helping in the world of the homeless.
What made you interested in coming back to The Damien Center?
What really hit me was, here I was working in housing and homelessness and here we had some of the patients in that field that were here in this field. It really made a strong connection to me.
There are these issues with housing and homelessness and health care … they're so connected.
So, my thought was: What a great opportunity at The Damien Center. I can take a lot of the skills and knowledge related to housing and homelessness and bring it back to health care and tie those together.
HIV/AIDS treatment and prevention has drastically improved. So what role does the organization serve now?
The Damien Center today is really working with people who are infected to help them thrive and live healthy lives and [is working with] people who are not infected but are high risk to keep them from becoming infected with HIV/AIDS.
At the core, that still remains the mission.
One of your first tasks in your new role was to think strategically about the direction of the organization. What has that process been like so far?
We're undergoing our new strategic visioning and direction process now.
We've considered our building, which is a three-story, old school. It's a great building but it's full. People are in every corner, and we have no room to put the staff that we have and expand services. We either have to somehow expand this building or find another place.
We're looking at what kinds of services we don't offer now that our client base needs. The Damien Center has been really at the forefront of creating this one-stop-shop model around health issues. We try to provide as many services as we can under one roof, because what we find is, when we refer people to other places, they're far less likely to actually access the service. So the more services we can offer in one place, the more successful our clients can be.
We really have to keep that community feel and welcoming sense here. That is really how we started—we started as this community center for disenfranchised. And that's something we'll continue to do.•
Please enable JavaScript to view this content.