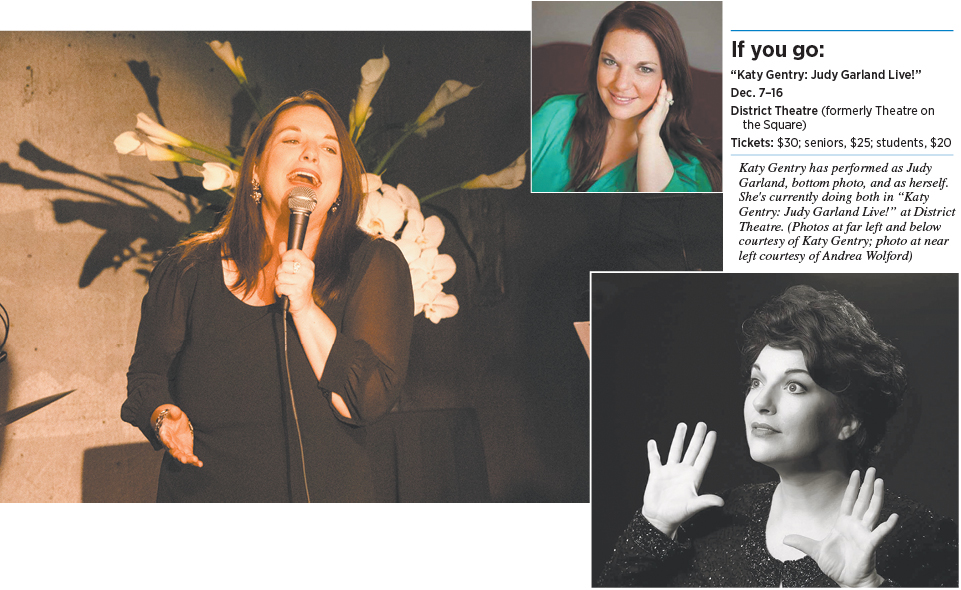 Katy Gentry has been listening to Judy Garland since she was 13 years old and was gifted a copy of the iconic singer's Carnegie Hall concert on vinyl.
But it wasn't until 2007 that the Crawfordsville native became Garland. That's when the then-fledgling Actors Theatre of Indiana cast her as Judy—well, as 1/3 of Judy—in "Beyond the Rainbow," a play in which three actresses play the legend at different stages of her career.
Back then, she was middle Judy, trying to grow out of her Andy Hardy/Dorothy Gale years. Ten years later, ATI revived "Beyond the Rainbow" and asked Gentry to play the latter-day Garland.
Now, Gentry is heading back to the stage in yet another permutation: This time, "Katy Gentry: Judy Garland Live!" offers the actress a more personal take.
"We decided that, when I speak to the audience, I'm Katy, speaking from my heart and experience," said Gentry, 37. "When the music starts to play, it's time to transform and bring out the soul of Judy."
The "we" she referred to is Magic Thread Cabaret, a company formed by Dustin Klein and Tom Alvarez to produce intimate concert experiences with local talent. The duo introduced Gentry's Garland show at The Cat in Carmel earlier this year and its success led to the upcoming production at District Theatre on Mass Ave.
"Like many gay men in my generation, I am a huge fan of Judy Garland and her music," Alvarez said. "When I first saw Katy in 'Beyond the Rainbow,' I knew we had to present her during our inaugural season. Not only did she have incredible talent in her own right, but she also possessed a charisma and undeniable stage presence as well. Plus, she fit the bill for us in terms of being a local talent."
Encouraged by her parents (her father served on Crawfordsville's city council and, from 2000-2004, as mayor), Gentry made her professional debut in a Beef & Boards Dinner Theatre production of "The Sound of Music" where she played Marta. She continued to find steady work on stage as a teen.
"I had the dream of moving to New York, but it wasn't in the cards. And I'm so glad I didn't," she said. Instead, she earned a bachelor's degree in education from Indiana Wesleyan University and a master's in special education from Ball State University. She and her husband are now both public schoolteachers at Hamilton Southeastern High School.
For more than 20 years, a side gig has been recording demos for music publishers. If your local high school is doing "Annie" or "Fiddler on the Roof," the students might have practiced to Gentry's recording.
While such tunes as "The Trolley Song," "The Man That Got Away" and, of course, "Over the Rainbow," might bring smiles, Garland's life was far from a Hollywood fantasy. And Gentry's life hasn't been all rainbows, either.
"Judy was given medication and pills at such a young age to control her emotions and control when she slept and when she woke up," Gentry said. "And she was able to capture the pain and the joy and the longing in her own life when she performed her live shows. She said that she was trying to find that end of the rainbow and she never could get there."
Through the cabaret format, Gentry said that—like Garland—she's able to share intimate parts of her own struggles.
"It has been three years and counting since I've chosen to live an alcohol-free life," she said. "Choosing to let alcohol take away its hold on me has freed my life so much. I have my marriage and two beautiful children, and I'm able to sing and perform. I'm not chained like Judy was."
For Gentry, it's ultimately about authenticity.
"People want to leave a theater changed in some way. They want to be uplifted. At the end of the show, standing in the lobby, I'm amazed how many people are in tears, how many people hug me and thank me for sharing the story. That's the connection piece that's amazing in cabaret."•
Please enable JavaScript to view this content.