When Anthem went public in 2001, John Gallina was on the floor of the New York Stock Exchange as Anthem's CEO rang the bell. Going into that year, the company had revenue of $8 billion and assets of $5.7 billion, and served 7 million members. Today, with Gallina at the financial helm, it has revenue of $89 billion, assets of $71 billion, and 40 million members, earning it the No. 29 spot on the Fortune 500 list. Gallina has been with the company since 1994 and became CFO in 2016.
Education: Gallina earned a bachelor's in business administration, specializing in accounting, from Ohio State University.
Career path: He spent his first dozen post-college years at what was then Coopers & Lybrand in its Ohio offices, then became chief financial officer of Community National Assurance Co., one of the predecessor companies to Anthem. He served in numerous positions at Anthem—including chief accounting officer and chief risk officer—before being promoted to executive vice president and chief financial officer.
Major company achievements during his tenure: Employing more than 58,000 associates and with a market value of nearly $72 billion, Anthem holds the exclusive license to market Blue Cross Blue Shield health insurance and ancillary products in 14 states. It's also one of the largest Medicaid managed-care carriers in the United States, serving Medicaid markets in 23 states.
Unique challenges in the insurance field: "Complying with ever-changing regulations," he said, "while balancing the customer's desire to have easy and immediate access to the highest level of care." On top of that: "Health care is a very private and personal matter, so extreme confidentiality needs to be maintained." He noted that the health insurance industry is the only part of the entire health care chain that has a financial incentive to reduce costs, reduce waste and eliminate unneeded procedures. "With the rising cost of health care in America, we believe part of our responsibility is to implement policies that reduce unneeded or unnecessary procedures, and to use evidence-based medical decisions to ensure that our members receive the right care, at the right time, in the most cost-effective setting."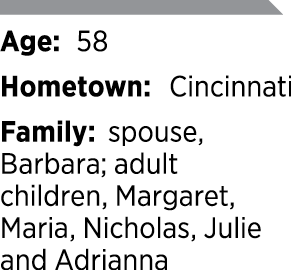 Givebacks: Gallina serves as director of the Western Golf Association and is on the boards of Forum Credit Union, Indy Championships Fund Inc., the U.S. Chamber of Commerce and BCS Financial.
Downtime: golf and watching and attending sporting events
My job would be a lot easier if … "we could focus on business issues, and not spend so much time on regulatory and related issues, and compliance with multiple accounting principles and non-value-added disclosures. … With all of the federal and state requirements, our independent accounting firms issue over 100 different opinions annually related to our subsidiaries and business operations."•
Check out more CFO honorees..
Please enable JavaScript to view this content.