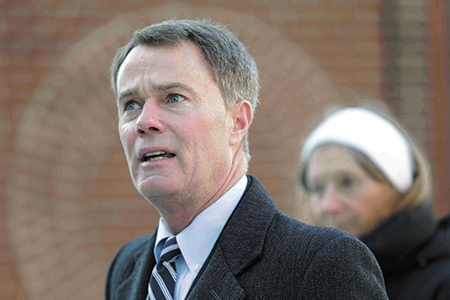 Indianapolis Mayor Joe Hogsett plans to seek re-election to a second term in 2019.
The Democrat, who was elected as the city's 49th mayor in 2015, told IBJ that he decided to seek another term in an effort to "continue moving the city in the direction we've already begun."
No Indianapolis mayor since John Barton (1964-68) has served fewer than two terms.
"Whether we call ourselves the tech capital of the Midwest, the amateur sports capital of the world, you could define Indianapolis in so many different ways," Hogsett told IBJ. "I just simply say the city has enjoyed enormous progress over the last 50 years. We need to keep that progress and that momentum on a go-forward basis.
"That starts with leadership and I hope I've provided the city with good leadership that has encouraged Republicans and Democrats to come together, perhaps like never before. I hope that is indicative of a city on the move that is making progress."
The mayor, who had been reluctant to discuss a second term until now, will formally announce his candidacy at 6 p.m. Wednesday to a gathering of supporters at Phoenix Theatre.
Hogsett is likely to face no serious primary challenger from Democrats. And, as of yet, there is no obvious Republican front-runners to oppose him in November's general election. State Sen. Jim Merritt told IBJ he is still considering running, as is former Butler-Tarkington Neighborhood Association President Ted Feeney. Republicans Jose Evans, John Schmitz and Libertarian Douglas McNaughton have all technically filed.
Hogsett defeated 2015 GOP challenger Chuck Brewer, a political newcomer and restaurant owner, by nearly 25 percentage points. 
Hogsett, 62, who ran for the post in 2015 on a campaign of shoring up the city's fiscal stability, reducing crime problems and improving neighborhoods, will surely be tested by his challenger on how well he has followed through on those promises.
Four years later, Hogsett said the city has made progress on his priorities—with the two biggest accomplishments being "holistic criminal justice reform and putting the city back in good fiscal shape" but has more improvements to make.
The city is still reeling from a troubling number of homicides, a topic that Republicans are sure to raise during the mayoral campaign. For the first two years of Hogsett's administration, the city saw record highs in homicides, a trend that began before he took office.
There's been some recent improvement. So far this year, there have been 158 homicides, according to figures tracked by WRTV. Last year, there had already been 170 homicides by Dec. 5.
"Any homicide that happens in, frankly, any city, but certainly in our city of Indianapolis is unacceptable," Hogsett said. "That has been a priority from the very beginning. It will continue to be. And I'm proud of the progress we've made. I always acknowledge that some of these challenges, you can't just wave a magic wand. Public safety will remain a priority. I look forward to continuing to make progress."
Hogsett has attempted to tackle the city's fiscal situation. When he first took office he declared a $50 million annual budget deficit. For the past two years, Hogsett has mostly held spending flat as tax revenues grew, in a quest for a structurally balanced budget.
Just last week credit rating agency Moody's revised its former "negative" outlook on the city's overall Aaa credit rating to a "stable" outlook. The city's Aaa rating is technically on $119.4 million of outstanding general obligation limited tax debt.
Moody's said the "stable outlook reflects our expectation for continued growth in tax base valuation and the maintenance of ample operating reserves."
Hogsett said fiscal stability will allow the city to be "well-positioned to start making important investments in the future," many of which could be seen in his second term.
"That could take a lot of different shapes, whether that's more green spaces, parks, investment in arts and culture, continued investments we're making in neighborhoods," said Hogsett, a former U.S. attorney for the Southern District of Indiana and Indiana secretary of state.
He also said he wants to continue and perhaps expand his signature programs, including youth summer jobs program Project Indy; college scholarship program Indy Achieves; streetlight program Operation Night Light; and 2,000 Homes, which demolishes or repairs blighted and abandoned houses across the city.
"Those kinds of investments I think can be transformative for our neighborhoods and economic opportunity," Hogsett said. "If people give me an opportunity to serve them for four more years, it's these types of investments that have begun that we're going to continue that I think will improve the quality of opportunity for as many residents in the city as we can provide."
But the budget situation has also hamstrung his ability to invest in the city's aging infrastructure, much like it has previous mayors. The city estimates it would take more than $700 million to meet Indianapolis' basic infrastructure needs, and Hogsett's administration has identified funding for $500 million in infrastructure upgrades over the next four years.
That plan "won't resolve in its entirety but will go a long way toward improving the quality of the infrastructure, streets, bridges, sidewalks, curbs, trails and everything that makes our quality of life better," Hogsett said.
Please enable JavaScript to view this content.