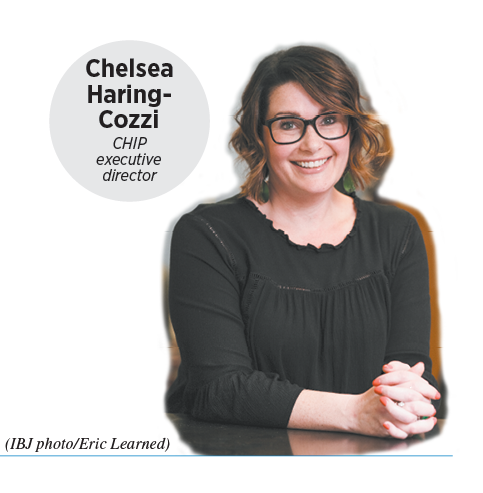 Chelsea Haring-Cozzi knows, through a close relative's experience, how important a safety net can be in keeping people from becoming homeless.
Haring-Cozzi, 42, the new executive director of the Coalition for Homelessness Intervention and Prevention, also has both a doctorate in public policy and college teaching experience—not the average background for a not-for-profit executive.
Her first day on the job was Nov. 26, and she took some time that day to talk with IBJ about how her professional background and personal experiences shape her views on homelessness.
What does the average person misunderstand about homelessness?
I think there's a misperception that people choose to live this way or maybe aren't struggling in the way that we know that they are. Not to make it very personal, but … my brother struggled with addiction for years and years and years and ended up losing his job, ended up having his house in foreclosure. Had it not been for a very wide network of family and friends, he could have easily found himself on the streets. But he had that kind of support system that prevented it. And a lot of people don't have that.
I once read that one of the top risk factors for homelessness is not being in touch with family.
Yeah. A lot of homeless people have employment. They have jobs. We have a lot of people in our community that are experiencing homelessness because they have a criminal history and can't find a place to rent to them—or have family living in a place that, if they come there, they would get evicted because of very restrictive policies around criminal history. … And that becomes a policy issue—part of the way we've set up our system. What kind of barriers have we put in place that have actually contributed to the problem?
What did you learn from academia that is useful in your current job?
The lens I bring to the nonprofit world is really understanding the impact of systems on the structure of opportunity in our communities, and kind of the distribution of power and resources. … It really does take a collaboration of people from different sectors to understand our role in what we see happening, whether it's around homelessness or criminal justice reform.
What one thing would most improve the homelessness problem?
I think there are a lot of people and organizations in this community doing some really good work. But I think sometimes we do it in a kind of fragmented way. … And to have that more unified approach in our city, that would better leverage voice and resources.
Is there any piece of the puzzle that is either a weak link or not really present?
I think I would like to see more of the business community get involved in helping us find creative ways of addressing what we see happening around homelessness that puts the individual first and really understands the struggles of those experiencing homelessness. There's been a lot of focus on what's happening downtown, and the downtown Mile Square, and I would love to see those business organizations come sit at the table and problem-solve alongside us so that we can make sure that Indianapolis is a community that everyone can enjoy.
I think that's starting to happen, but I would really like to see the business community get more engaged.•
Please enable JavaScript to view this content.