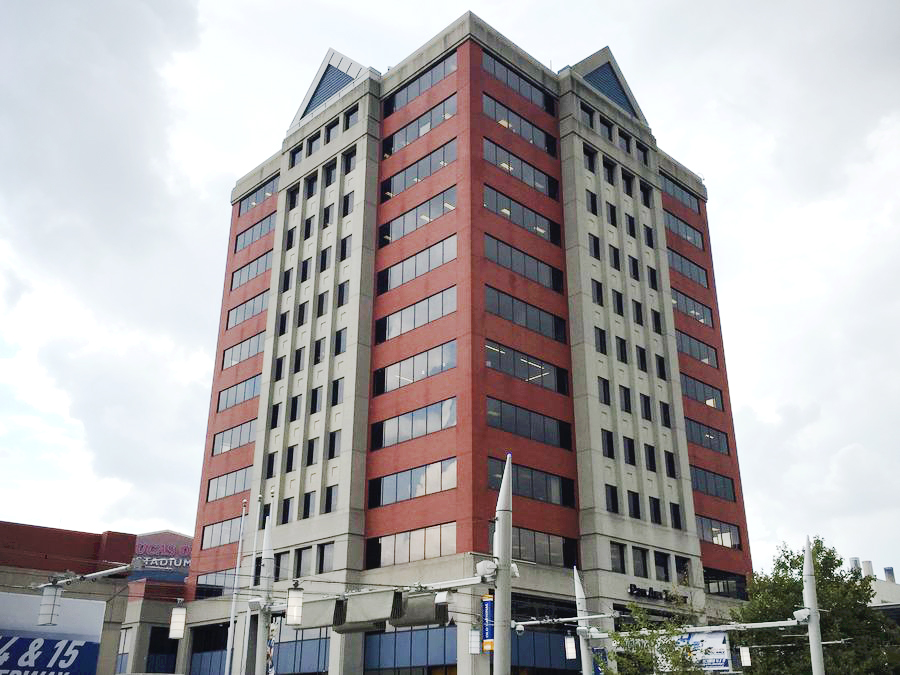 Downtown office building Pan Am Tower has been purchased by Carmel-based Lauth Group Inc., which plans to renovate portions of the building.
The sale of the 12-story tower at 201 S. Capitol Ave. closed Dec. 7. Lauth declined to provide a purchase price. 
Improvements to the building will coincide with recently announced redevelopment plans for the surrounding Pan Am Plaza, which is expected to see the addition of two new hotels and attached meeting space being developed by Kite Realty Group as part of an Indiana Convention Center expansion.
Lauth bought the 138,000-square-foot building from San Francisco-based Coastal Partners LLC, which bought the property in 2003 from the not-for-profit Indiana Sports Corp. for $8 million
Coastal Partners was represented by CBRE's Dan Richardson, while Lauth represented itself in the deal.
"We are very bullish on the future of the downtown Indianapolis central business district, which is a hub for the city's growth plans," Michael Garvey, a partner at Lauth, said in written comments. "The Pan Am building is an excellent fit for Lauth's corporate development and investment strategy."
Lauth said it will manage the building. It has plans to renovate the lobby, restrooms and workout facility. The company didn't provide a timetable for those renovations.
The office tower was built in 1986 as part of the plaza's development ahead of the 1987 Pan American Games. The building is more than 90 percent leased.
Tenants in the building include the Indiana Sports Corp., Bee Coffee Roasters and health care advisory firm Bradley Associates.
Indianapolis-based Kite has plans to add two Hilton-brand hotels, adding upwards of 1,400 new rooms to the plaza corridor. The project will be comprised of a 38-story building with about 815 rooms and a second hotel with about 600 rooms.
The hotels are expected to be directly connected to the Indiana Convention Center, which will also see the addition of 120,000 square feet of ballroom space, being developed by Kite as well.
Lauth owns and manages nearly two-dozen office buildings in Indianapolis and elsewhere around the United States.  It also oversees development and management of several multi-family and commercial properties.
Please enable JavaScript to view this content.