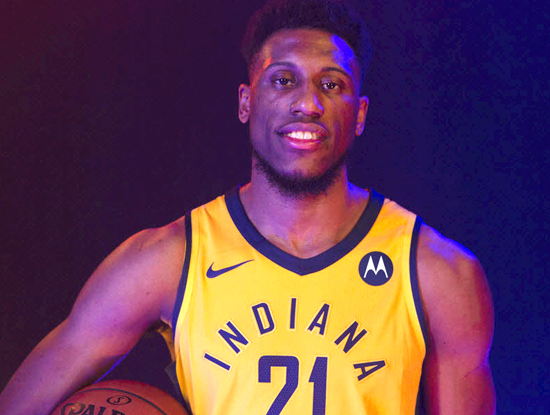 The Indiana Pacers scored an early Christmas gift with the announcement Tuesday that the NBA team has signed a multi-year deal for Motorola to become its jersey patch sponsor. 
This is the second year the NBA has allowed teams to place corporate logos on their game-time playing jerseys, and the move has been a boon for NBA franchises.
The Pacers are the 29th of 30 NBA teams to sign a jersey sponsorship deal (only Oklahoma City doesn't have one). Although the Pacers declined to disclose the value or length of the deal, a source told IBJ the deal is likely worth $8 million to $10 million over two years.
IEG Sponsorship Report reported earlier this year that the NBA jersey sponsorships are netting an average of $6.5 million annually for each team that does a deal. The Pacers deal is likely a bit below the league average because Indianapolis is one of the league's smaller markets.
Teams have been signing the jersey deals with a variety of well-known companies, including StubHub, Goodyear, Harley-Davidson, General Electric, Disney, Sun Life, Fitbit, Flagstar Bank and Bumble.
In addition to getting a 2.5-inch-by-2.5 inch patch on the upper left side of the team's jerseys, Chicago-based Motorola will get in-arena signage at Bankers Life Fieldhouse, as well as a presence on Pacers social media. In addition, Motorola will be the presenting sponsor of the team's app.
While the mobile-communications company has been active in sports sponsorships over the years—from stick-and-ball sports to motorsports and even professional cycling—this is the company's first NBA jersey patch sponsorship.
"From the outset, we wanted a partner that we knew would align well with our organization's culture and values, and Motorola is the perfect match as demonstrated by their leadership and exciting future in the mobile communications industry," Pacers Sports & Entertainment President Rick Fuson said in a statement.
"All of us at Motorola are thrilled to see our iconic brand join forces with an iconic team, the Indiana Pacers," Rudi Kalil, vice president and general manager, North America at Motorola, said in a statement.
Please enable JavaScript to view this content.