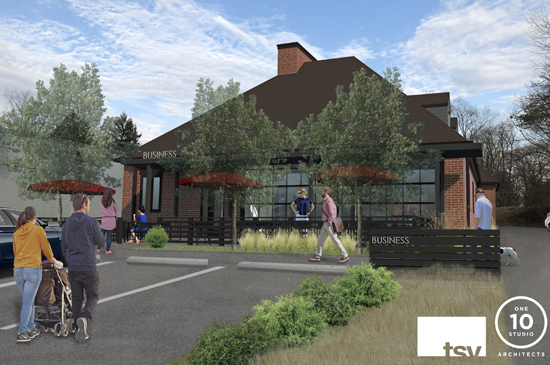 The long-debated redevelopment of an old fire station in the Butler-Tarkington neighborhood will have to wait at least a few months longer.
On Wednesday, the Indianapolis Metropolitan Development Commission opted to put off consideration of whether to approve plans for renovating the former fire station No. 16 building, 5555 N. Illinois St., until a meeting in mid-February. The reason: An opponent of the project requested an eleventh-hour stay on approval because he was too sick to attend the Wednesday meeting.
The MDC heard the request on Wednesday for zoning changes and a variance of development standards for the site by local developer Antone Najem of Third Street Ventures. Plans for the project have been in various stages of development for more than a year.
Commissioners ultimately decided Wednesday to continue the matter to Feb. 20, following a request by the attorney for adjacent property owner Jim James. 
James, who owns 21st Amendment liquors directly north of the firehouse, has been opposed to plans for redevelopment since Najem's proposal was selected over his own by a city review committee in February 2017.
Both James and Najem offered similar ideas for the space—making it a restaurant with a bar. Najem won out, although his initial plans for an eatery and watering hole are not set in stone.
He told IBJ this week he is still evaluating his options for the building, including its main use. He said he's continuing to work with nearby residents to ensure they're comfortable with the project.
He has agreed to pay $400,000 for the building, but said he has not yet finalized how much the redevelopment would cost. That would depend on the kind of tenant that agrees to lease the 4,000-square-foot building.
Najem, through TSV, wants to rezone the 1932 fire station to a commercial designation, as well as get a variance allowing him to put in "nine substandard parking spaces with (a) deficient on-site maneuvering area." Several off-street parking spaces would require cars to back up into Illinois Street to exit the property.
S. Gregory Zubek, of Whitham Hebenstreit & Zubek LLP, who serves as James' attorney, told the commission the business owner had an illness that prevented him from attending Wednesday's meeting and requested the matter be addressed later. He said James' illness was "an intestinal issue which limited his mobility."
Zubek said he felt his client should have an opportunity to speak about the matter because he opposes the development and is a neighboring property owner. In addition to the liquor store, James also owns land that sits directly east of the 0.32-acre parcel on which the firehouse is located.
The attorney for Third Street Ventures, Mary Solada of Bingham Greenebaum Doll LLP, objected to the request, calling the remonstrator's failure to notify her of a continuance request until just before the meeting began "incredibly disrespectful."
Solada also said five witnesses were present to speak on TSV's behalf and that coordinating schedules had been difficult. 
"We have spent substantial time preparing for this hearing today," she said. "We're ready to move forward and we would ask that this matter move forward today."
Despite Solada's objections, the MDC voted to permit a continuance on the zoning request. When asked by Solada about the extensive time lapse between hearing dates—continued cases are often bumped to the next meeting—MDC President John Dillon said the maneuver would help the MDC better manage things.
"We're trying to spread (out) the schedule," he said.
The continuance means zoning changes wouldn't take effect until at least a couple months into the new year, further delaying the project after Najem expressed optimism the process was nearing a conclusion.
He had said he was eager to get a business to reoccupy the building, which has sat empty since the city opted to close the fire station in 2016.
Najem did not  respond to a phone call requesting comment Wednesday.
Please enable JavaScript to view this content.