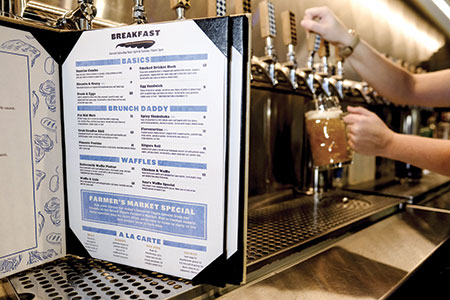 "Brunch without cocktails is just breakfast."
The sign I spotted on the cash register at one of my go-to restaurants last month provided much-needed inspiration for my assignment to explore a few non-traditional brunch spots.
Any eatery with some variation of "egg" in its name should excel at the popular hybrid meal. But what about places that are better known for adult beverages than breakfast? The results might surprise you.
Liter House
5301 N. Winthrop Ave.
Brunch served 9 a.m. to 3 p.m. Saturdays and 10 a.m. to 3 p.m. Sundays
The newest addition to the Sahm's family of restaurants, Liter House is fashioned after a Bavarian beer hall, serving up a variety of German-inspired suds from big brother Big Lug Brewery. Its current brunch menu debuted this month with the opening of the Broad Ripple Winter Market, held in Liter House's attached special event space.
The cohabitation means diners can expect live music during market hours (9 a.m. to noon Saturdays), along with a steady stream of shoppers walking through the restaurant. (We browsed before grabbing a table, then popped back in to make some purchases after ordering our brunch.) It's also the inspiration for the vegan Farmers Market Special, which changes based on what the chef selects each week.
The brunch menu includes most of the expected offerings: Biscuits & Gravy ($7), Steak & Eggs ($23) and an entire section devoted to Waffles ($11-$13). We focused on some of the more unusual offerings: Smoked Brisket Hash ($12), Spicy Shakshuka ($9) and Florentartine ($11).
My hash featured chunks of Texas-style smoked brisket, sauteed with onions, peppers and potatoes, topped with two sunny eggs and hot sauce aoli and served with white or wheat toast. The combination was sublime.
The Spicy Shashuka, which Google tells me is particularly popular in Israel, isn't like anything I've seen on an Indiana breakfast table lately. Its eggs are poached in a chili tomato sauce, which is topped with feta cheese, garlic bread gremolata and micro greens. Served with bread from the farmers market, it's not for the faint of heart (or stomach).
If you're nursing a hangover, the Florentartine might be a better option. Its foundation of toasted farmers market bread is topped with creamed greens, a poached egg, crispy onions and micro greens. And it comes with your choice of crispy potatoes (our pick) or fruit.
LouVino
8626 E. 116th St., Fishers (Mass Ave location coming in 2019)
Brunch served 10 a.m. to 2 p.m. Saturdays and Sundays
Billed as a "Southern-inspired small-plate restaurant and wine bar," LouVino exudes class, making diners feel as though they're celebrating a special occasion—even when you're just there for the $2 mimosas. (Or the supersized $6 version, which comes with a collector cup.)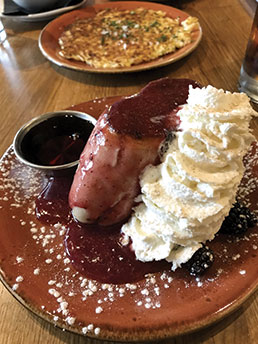 The Stuffed French Toast at LouVino came in an unusual but delicious presentation. (IBJ photo/Andrea Muirragui Davis)
But don't settle for just wetting your whistle. The talented kitchen crew brings out the big plates to deliver a brunch menu worthy of its most "egg"cellent competitors. Offerings run the gamut from traditional fare like Biscuits 'n Gravy ($10) and a Croissant BLT ($12) to more creative options like Pancake Tacos ($10.50) and Pimento Cheese Chicken Salad Sandwich ($13).
We stuck with more breakfast-y choices, opting for the Eggs Benedict ($11) and Stuffed French Toast ($8), with sides of bacon and hash to share ($3 each). We had no regrets.
The Eggs Benedict featured two perfectly soft-poached eggs, smothered in a chive hollandaise sauce topped with a ham chip (think a swirl of crispy bacon) and a rosette of smoked salmon. Instead of the traditional English muffin, LouVino's masterpiece is built atop an arepa—a South American corn-based alternative that is more dense and just as delicious.
The Stuffed French Toast was equally delightful, if more of a visual surprise. Rather than serve up the expected squares of egg-battered sandwich bread, LouVino's version features a couple of slices of a round loaf stuffed with vanilla mascarpone cheese and topped with blackberry jam and whipped cream. The combination was sweet enough that I didn't think it needed the bourbon maple syrup, until I dipped a bite in it out of curiousity. If they don't bottle this stuff, they should.
Taxman Brewing Company Brasserie & Tap Room
29 S. Main St., Fortville
Brunch served 10 a.m. to 3 p.m. Sundays
Located in a pair of historic buildings in downtown Fortville, this year-old entry from Bargersville's Taxman Brewing Co. is destined to become a new favorite for our family—and not just because of the easy drive from our home in Fishers.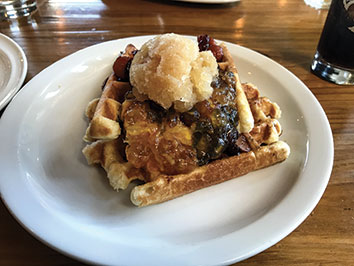 The Liege Waffle at Taxman Brewing is topped with orange marmalade, cranberry and almond preserves and mulled cider slush. (IBJ photo/Andrea Muirragui Davis)
Both the family-friendly atmosphere and plesantly outgoing waitstaff are open and welcoming, instantly putting even new visitors like us at ease. And the food … oh my. We chose the Liege Waffle(s) ($9) from the three-item Sweet section of the menu and the Burger ($14) from the nine Savory offerings. (Pro tip: If you're really hungry, try the Belt-Stretcher ($16), which includes eggs, steak, ham, kielbasa, grits and home fries.)
A burger for brunch, you ask? Sure, when it's topped with bacon and an over-easy egg (along with cheese and all the fixings) and served with a Beermosa ($6). The breakfast basics were the perfect complement to the juicy burger, and the frites were a delicious option for mopping up extra egg yolk.
As for the waffle, let's just say it is the real deal. No toaster was involved in the making of this taste sensation. And although our server offered syrup, none was necessary. My pair of already sweet waffles were topped with a delightful orange marmalade, cranberry and almond preserves, and mulled cider slush. Once I got over my skeptism ("But, but … it's cold!") and dug in, I learned not to question the experts in the kitchen. Clearly, they know what they're doing.•
Please enable JavaScript to view this content.