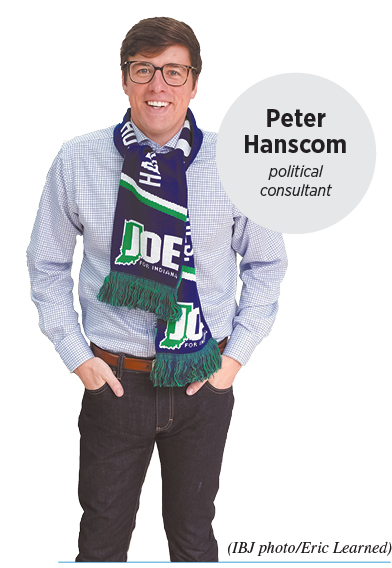 Peter Hanscom won't miss the parades. After running Democrat Joe Donnelly's unsuccessful re-election campaign for U.S. Senate, the 30-year-old political strategist is enjoying a break. He says he doesn't have many regrets from the campaign, and he's pleased with the work he did.
Big-picture question: What happened? Why didn't Donnelly win?
We knew we needed to run up the score as much as we could in Indianapolis and Lake County. We knew we needed to perform better than an average Democrat would in the suburban communities, particularly surrounding Indianapolis. The piece of the equation that didn't match up with expectations is kind of this death by a thousand cuts that we suffered in rural Indiana, particularly among voters without a college degree and folks who are not typically midterm voters who showed up.
So were you happy with how Donnelly performed in the suburbs?
We met all of—and in many places exceeded—our benchmarks in the suburbs. I think that is an emergence of a new coalition for Democrats in Indiana. A lot of those folks are more socially liberal. They're more fiscally conservative. And so I think they remain up for grabs with the right candidate who identifies in a similar way.
But there are not enough of those places in the state of Indiana if you are then also going to lose 50-60 rural counties by 40 points in each county.
It was incredibly frustrating for me to hear after the election, "Well, if only Joe Donnelly had turned his base out." That's just mathematically not true. That happened. Joe turned out his base. The problem is the Democratic base in the state of Indiana is much smaller than it is in a lot of other places.
Do you think other Indiana Democrats can admit the base just isn't big enough?
No, absolutely not. It's really easy to watch MSNBC and get worked up about something that's going on that you disagree with it. I'll admit I do it frequently. But at the end of the day, it's about butts in seats. If you don't win, you don't get to make the decisions.
I think as a party nationally, we need to do a better job at selling what it is we stand for.
Do you think it's possible for a Democrat to win statewide in Indiana?
Yeah. You gotta have the right candidate. The person has to be well-funded. They have to be someone who has broad base appeal.
And I think increasingly it has to be someone who can find a way to talk about issues, because as long as the elections in Indiana continue to be a referendum on Democrat vs. Republican, in the labels of party only, we will lose. We have to find a way to make the elections a referendum on people and ideas and policies.
You worked as state director for Hillary Clinton's presidential campaign in 2016 and then Donnelly's campaign, which were both pretty big losses. So how do you feel?
It's not been great. You learn just as much, if not more, from losing than you do winning. I also think it's important to continue fighting and running races in places where it's not easy.
But I can tell you I'm not going to be managing another campaign anytime soon because I am ready to have a real life again.
So, what is next for you if it's not another campaign?
I don't know. Being a dad. Actually spending time with my wife. I keep telling people I need to figure out what I want to be when I grow up.•
Please enable JavaScript to view this content.