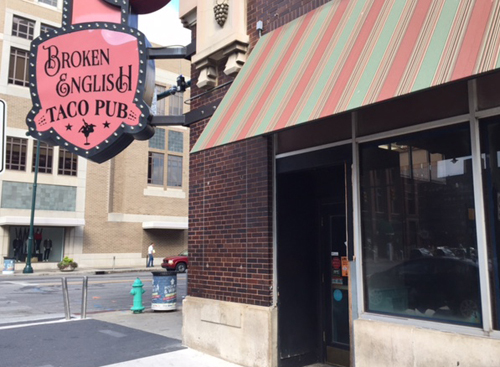 After a 13-month run in downtown Indianapolis, Broken English Taco Pub has called it quits.
The 7,500-square-foot restaurant, which opened at the northeast corner of South Meridian and Georgia streets in November 2017, ceased operations on Dec. 31, sources familiar with the situation told IBJ.
The eatery and bar was the first location outside of Chicago for Broken English, which was founded in 2016 and has three Chicago locations, in the Loop, Lincoln Park and Old Town.
Broken English is part of the Phil Stefani Signature Restaurants group, which operates several prominent eateries in Chicago, including Tavern on Rush, Riva Crab House and Crystal Garden on Navy Pier, Mad Social in the West Loop, Flamingo Rum Club, Tuscany, and Castaways Bar and Grill on North Avenue Beach.
A Phil Stefani employee said his company had an agreement with another operator to manage Broken English's Indianapolis location. He did not provide further information on the closure.
The ground-floor space in the historic Wholesale District building was previously occupied by Tilted Kilt Pub & Eatery, which opened in December 2011 and closed May 1, 2017. Sources told IBJ in 2017 that the former franchisee of Tilted Kilt still held the lease on the location and reached an agreement with Broken English to operate the restaurant.
The site was previously home to restaurant and entertainment complex Jillian's, which operated there from 1998 to 2011. Jillian's occupied about 44,800 square feet on three stories of the six-story building. It vacated the first floor in mid-2011 and moved out of the building entirely later that year.
The 144,000-square-foot 141 S. Meridian building was built in 1912. Much of the building is occupied by condos. Other tenants include logistics company Spot Freight and piano bar Howl at the Moon.
Please enable JavaScript to view this content.