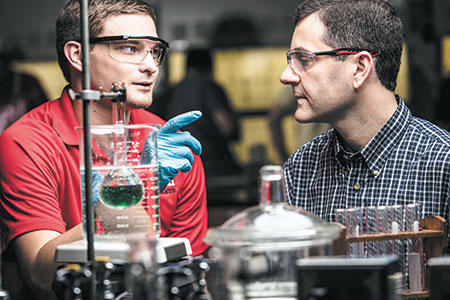 About 10 days before Wabash College officials were scheduled to announce the school's largest comprehensive fundraising campaign—an effort that had already raised $150 million of its $225 million goal—the lead donors had doubts about going public.
Alumnus Paul Woolls and his wife, Betty, were giving the school a $40 million, unrestricted gift—the largest single donation the college had ever received—and it was going to be revealed as part of the campaign kickoff celebration last November at the Indiana State Museum.
A giant red "W" was to be displayed outside the museum, and a bus packed with Wabash trustees, donors and faculty members was bringing guests to the party.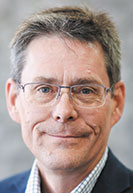 Amidon
"We weren't sure we were going to be able to attach their name to the number or the number to the name," said Jim Amidon, director of strategic communications and chief of staff for Wabash President Gregory Hess. "It was a fairly big moment."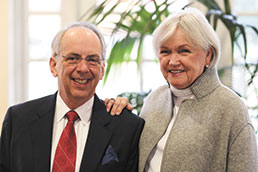 Paul and Betty Woolls donated $40 million to Wabash College last year. It was the largest donation made by individuals to an Indiana not-for-profit or school last year. (Photo courtesy of Wabash College)
But in the end, the Woolls did agree to publicize the gift—which ranks as the biggest individual donation publicly given to an Indiana organization in 2018. Not-for-profits across the state reported receiving a total of 27 seven-figure gifts last year, worth nearly $246 million.
Most of the gifts—20 of the 27—went to higher education institutions. Only five were from named Indianapolis philanthropists. Two were anonymous.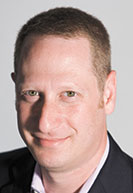 Sternberg
The total amount is about 18.5 percent lower than the amount of big gifts in 2017, when 28 individuals gave a total of $303 million. It's also lower than 2016, when 31 individuals gave $267 million.
Philanthropy experts say the higher total in 2017 is likely attributed to donors making year-end gifts that they otherwise would have made in 2018, to avoid any negative effect from the tax reform Congress approved in 2017. The tax law nearly doubled the standard deduction for individuals and couples, which means fewer people can choose to itemize their tax returns, and taxpayers can claim the charitable deduction only if they itemize.
"Is this year a decrease or is this year a reflection of making a gift earlier than donors intended to?" said Dave Sternberg, a faculty member at the Indiana University Lilly Family School of Philanthropy and a partner with Loring Sternberg and Associates. "My guess is, any individual decrease you see in 2018 is simply a reflection that they made a contribution in 2017 that they were planning on making in 2018."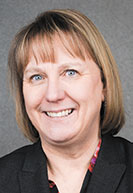 Janssen
And the total might represent only a portion of major gifts received, as some donors, unlike the Woolls, opt to keep not only their names but also the amounts confidential.
Amidon said the second- and third-largest gifts Wabash received in 2018 came from donors who requested that their names and donation amounts be kept anonymous. So those won't make any top-gifts lists.
It's a situation Wabash has found itself in for years. It receives big donations but can't release the details.
According to data from the Chronicle of Philanthropy, Wabash hadn't had any seven-figure gifts since 2009. But the college's dean for college advancement, Michelle Janssen, said Wabash actually did receive gifts of $1 million or more during those years. It's just that those donors "prefer to be generous in spirit and not in name," meaning the school could not publicize the gift.
The fifth-highest individual gift to an Indiana organization last year is also listed as anonymous—$15 million to Rose-Hulman Institute of Technology for a new facility that will have workspaces, design studios, classrooms, laboratories and an area for faculty programs. In that case, though, Rose-Hulman was able to release the amount of the gift, just not the donor, meaning it could be ranked on giving lists.
Sternberg said there could be a slew of other major donations that remain unknown, but he said the number of anonymous donors doesn't seem to be growing.
"I don't think it's that common, I really don't; but if they're anonymous, how do we know?" Sternberg said.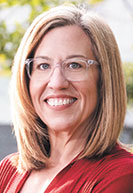 Pendleton
Jen Pendleton, vice president of Toledo, Ohio-based Aly Sterling Philanthropy's Indiana office, said donors have myriad reasons for wanting to keep their information confidential.
Some fear that publicizing a gift could prompt other not-for-profits to approach them, while other donors don't like to discuss money and their wealth. A few are solely motivated by altruistic reasons and don't want the recognition.
Sternberg said being anonymous can be "a way to support causes that are important to you and sort of stay out of the realm of other organizations."
And that could increasingly be important to these donors. While overall giving to charity has held steady, gifts are coming from fewer individuals.
"As there are fewer larger donors at the top, there's this chance you stick out more," Sternberg said.
Pendleton said a donor's decision is sometimes based on his or her traditions and upbringing. "It's very much what their own kind of culture is and how they feel about money," she said.
The donors behind three other big Wabash College gifts that were publicized this year—$4 million from alumnus Walter Snodell and his wife, Kathy; $2 million from alumnus Steve Bowen and his wife, Joanie; and $2 million from alumnus Jay Allen and his wife, Susan—also were reluctant to be named.
"They like their actions to speak louder than their words," Amidon said. "They're not looking for headlines."
But Janssen said the publicity helps. Wabash wanted to be able to name some of its big donors at the launch of its Giant Steps for Wabash campaign in November to encourage others to follow suit.
"It feels like Giant Steps for Wabash was a bit of a debut on the philanthropic stage," Janssen said. "I think our donors and our alumni and our parents and our students feel inspired."
Amidon said it's a sign the Wabash College culture has finally changed. "Let's not be quiet and a well-kept secret," Amidon said. "Let's kind of be chest-out proud."
Pendleton said not-for-profits have to respect donors' wishes, but that it's generally better for organizations to have public gifts so they can be leveraged into more donations.
"It's walking a super-fine line, because you also don't want [donors] to feel pressured," Pendleton said. "It's like, 'Look, I just gave you $40 million; what else do you want from me?'"
She said it's OK for development officers to stress to donors the importance of being public. "They can inspire generosity in others," Pendleton said. "I don't think I've experienced anyone that ended up going public that regretted it."
Sternberg agreed that not-for-profits should talk to donors about how their gift could encourage others to give, but stressed that "the donor's interests come first."
"Ultimately, if it's not something they're comfortable with, then I sure as heck wouldn't force them to do it," he said.•
Please enable JavaScript to view this content.