Indiana University's Public Policy Institute unveiled its newest research center Monday with a renewed focus on the study of diversity, inclusion and an array of socioeconomic barriers that affect Indiana residents every day.
The Center for Research on Inclusion & Social Policy—which the school is calling CRISP—will act alongside other initiatives by the Public Policy Institute located at IU's School of Public and Environmental Affairs in Indianapolis.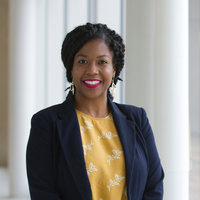 Breanca Merritt
Breanca Merritt will serve as the center's director. The veteran researcher joined the PPI in 2015 and has completed projects examining race and ethnic disparities, poverty reduction, public safety and more.
Researchers at CRISP are committed to projects spanning eight research areas, according to the group's website: disparities, education, homelessness, housing, neighborhood and community development, poverty reduction, public health and safety, and youth and families.
Of those eight, Merritt said in an interview she would like to see further discussions about the consequences of disparity, which involves studying how demographics like race, ethnicity and socioeconomic status produce different outcomes for people in traditionally disadvantaged classes.
"There's not really a concerted policy discussion around that topic," Merritt said, noting that the stall in the conversation is largely due to the number of voices and complexity of the issues at hand. Disparity, she added, plays a central role across the other seven topic areas.
CRISP arrives in the midst of ongoing debate by lawmakers about the implementation of hate crimes legislation, a conversation that is gaining momentum despite years of failed bills and continuing disagreement around which protected classes deserve to be recognized on paper.
Merritt said she is hopeful CRISP's clear focus on issues of diversity and social policy, a mission that allots more resources to these topic areas in general, will help lawmakers move beyond "social commentary" and assess the reality of hate and prejudice in Indiana.
"The way to get around that is to think about the implications for our state at large," Merritt said. "We need to examine what other states are doing."
Merritt said CRISP is in the process of developing several projects, such as a study of international migration to Indiana, evictions in Indiana counties (with an emphasis on Marion County), and the impact of race on homeownership, based on a recent report by the Brookings Institution.
Erica Irish is a reporter for TheStateouseFile.com, a news website powered by Franklin College journalism students.
Please enable JavaScript to view this content.