Former U.S. Rep. Luke Messer has joined Faegre Baker Daniels Consulting as a principal in its Washington, D.C., office, where he will advise companies on federal regulatory and policy issues.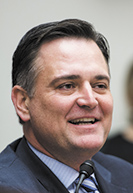 Messer served three terms as the representative of Indiana's 6th District before seeking the GOP nomination in last year's U.S. Senate contest. That made him ineligible to seek another term in the House.
Messer lost that Senate primary race to Mike Braun, who went on to unseat Sen. Joe Donnelly, a Democrat.
Messer will co-lead the firm's federal advocacy team with FaegreBD principal Ted Bristol, who served as legislative advisor to senior Democrats in the U.S. House and Senate.
"I am excited to join a major firm with a strong presence in Washington, D.C., and nationwide," Messer said in a statement. "I look forward to working with my new colleagues to help clients navigate the complex maze of federal policy decisions in Washington."
Messer previously served as executive director of the Indiana Republican Party and then as a member of the Indiana House from 2003-2006, before joining Ice Miller LLP's lobbying division.
"Our firm has always had an active practice working with federal, state and local government decision makers," said FaegreBD Managing Partner Tom Froehle in a statement. Luke's addition strengthens our expertise and ability to help clients achieve their [legal and] public policy objectives."•
Please enable JavaScript to view this content.