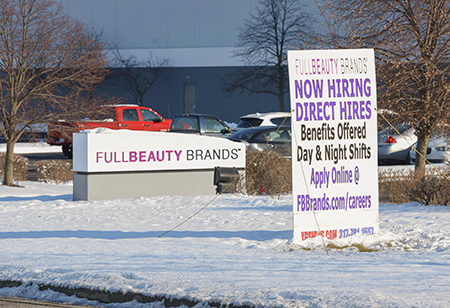 FullBeauty Brands, an online retailer of plus-size women's apparel with a deep history in Indianapolis and nearly half its workers here, is attempting to extricate itself from a staggering debt load of $1.3 billion by turning over ownership to its creditors.
The New York-based company, with more than 700 Indianapolis employees and 2018 revenue of $827 million, is lining up support for its restructuring plan in anticipation of filing a so-called "prepackaged" Chapter 11 bankruptcy by the end of the month. Prepackaged Chapter 11s can allow ailing firms to exit bankruptcy within weeks.
The turn of events marks a painful setback for the London-based private equity firm Apax Partners, which acquired FullBeauty from Boston-based Charlesbank Capital Partners in August 2015 in a $1.7 billion leveraged buyout.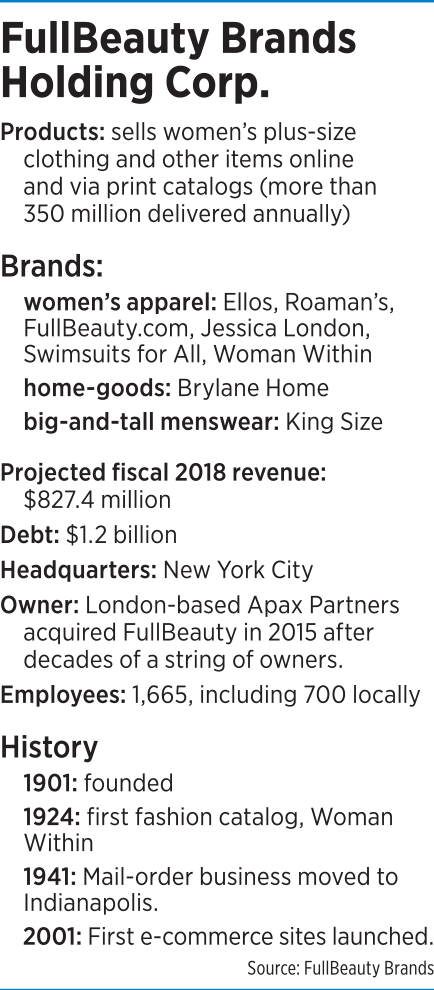 Apax currently owns 70 percent of FullBeauty and Charlesbank owns 26 percent, with current and former employees owning the remaining 4 percent. The restructuring would essentially wipe out their stakes.
Post-restructuring, Apax and Charlesbank would own 2.5 percent of FullBeauty. Creditors, including Los Angeles-based Oaktree Capital Group LLC and New York-based Goldman Sachs Group Inc., would own the rest.
Though officially headquartered in Manhattan, FullBeauty runs its fulfillment, finance and IT functions out of a 750,000-square-foot building on Southeastern Avenue that also serves as its largest distribution center. The company also runs a 740,000-square-foot distribution center in Plainfield, near the Indianapolis International Airport.
FullBeauty sells under a range of brands—including Woman Within, Roaman's and Jessica London—each with its own catalog that the company mails to customers regularly to stoke demand.
The company ran aground after sales—which were nearly $1 billion as recently as 2015—began to fall amid operational stumbles and competition in the plus-size market from such rivals as Amazon.com, Kohl's and Walmart.
The setbacks left FullBeauty unable to make its debt payments. The company's current interest expenses are $100 million a year, which exceeds its expected 2018 EBITDA—earnings before interest, taxes, depreciation and amortization—of $85 million.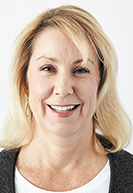 Warren
The restructuring would reduce debt to between $368 million and $403 million, which company officials believe will give it the breathing room to continue executing the turnaround plan it launched in 2017, after profit margins, revenue and customer engagement started to slip.
"Trends for retailers are difficult in general, but we have really been in the midst of a turnaround since 2017, and feel like we're making really good progress," FullBeauty Chief Operating Officer Laura Warren told IBJ.
Warren said the company does not plan to reduce its workforce or shed any brands.
In a prebankruptcy filing, FullBeauty said that, while competition from other retailers took its toll, the company also faced "multiple operational hurdles," including an outdated merchandise planning system and fragmented e-commerce platforms.
Merchandising mistakes
In addition, a shift in merchandising strategy proved misguided.
For example, Warren said, in 2017 catalogs, the company began offering trendy denim apparel in a variety of washes, distressings and embellishments. Customers didn't like it, and the company was left with unsold merchandise.
"It just didn't resonate with [the customer]. She wasn't ready for distressed, hole-y jeans with a lot of embellishment," Warren said.
FullBeauty's board responded by changing out the company's management team, hiring CEO Emilie Arel, Warren and four other executives from January 2017 to July 2018. The last round of hiring included former HHGregg CEO Bob Riesbeck, who came aboard as chief financial officer. He plans to step aside when the restructuring is complete.
But that wasn't enough.
"Following significant discussion and planning, the Sponsors and the Company's new executive management team recognized that even flawless execution of FullBeauty's new business plan would not enable it to alleviate the liquidity constraints under the Company's existing leveraged capital structure," FullBeauty said in the prebankruptcy filing.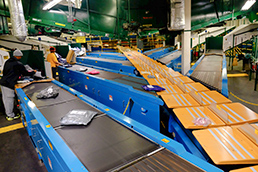 FullBeauty's largest distribution center—a 750,000-square-foot building on Southeastern Avenue—handles the company's fulfillment, finance and IT operations. (IBJ file photo)
In July, FullBeauty hired Chicago-based Kirkland & Ellis LLP as legal advisers and New York-based PJT Partners LP as restructuring advisers to help it come up with "potential strategic alternatives."
FullBeauty has had a substantial Indianapolis presence since at least the 1940s and for decades was based here.
Its origins go back to the early 1900s and, in a way, the women's rights movement.
A pregnant New York socialite of the time had asked fashion designer Lena Bryant to make her a maternity dress—a gutsy move in an era when pregnant women were not supposed to be seen in public.
Maternity wear turned into a craze, and Bryant's husband, after anglicizing Lena's name, opened the first Lane Bryant in New York City in 1904.
The firm moved its headquarters to Market Street in Indianapolis in 1941, and 20 years later to Southeastern Avenue.
The Columbus, Ohio-based retailer The Limited bought the company in 1982—the same year it acquired the Roaman's mail-order operation in New Jersey and folded it into the Indianapolis headquarters.
Recent decades have been marked by a blitz of deal-making. The Los Angeles-based buyout firm Freeman Spogli bought majority ownership of the mail-order side of the business in 1993 (leaving The Limited with the brick-and-mortar stores) and took it public four years later.
It was snapped up by France-based Pinault PrintempsRedoute in 1999. In 2012, PPR sold the business to Charlesbank Capital Partners, which held it three years before selling to Apax.
The plan forward
Last August, FullBeauty appointed a new independent director to oversee financing and restructuring efforts and evaluate potential transactions.
The retailer skipped a $26.2 million debt payment due Oct. 31 after determining that making the payment would leave it with insufficient liquidity to cover operations.
This month, FullBeauty announced it had entered into a restructuring agreement that was supported by Apax and Charlesbank, which had held onto a 26 percent stake after selling control of the company. FullBeauty said it has support from more than 99 percent of its first-lien lenders and more than 95 percent of its second-lien lenders.
"Because we're only seeking to discharge that debt, having that high number of lienholders agree to the plan already, we think, is a good thing," Warren said.
All that support is helpful, but there's no guarantee the court will sign off on FullBeauty's plan as submitted, said Mathew Christy, an associate director at the ratings agency Standard & Poor's.
"These deals are highly negotiated," Christy said. "At any point in time, there could be uncertainties."
But Nicholas Georgakopoulos, a law professor at the Indiana University Robert H. McKinney School of Law, said FullBeauty appears to be on a path to approval, saying, "I don't see the court really slowing things down much."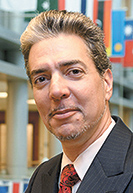 Georgakopoulos
Company officials believe the company will thrive once its debt problems are resolved. In its prebankruptcy filing, FullBeauty projects sales will increase steadily, reaching $923 million in 2022.
FullBeauty has moved past the "fashion forward" strategy that flopped and is in "a much better place" with its spring/summer 2019 catalogs that are now going out to customers, Warren said.
Competition remains stiff. According to a 2018 report by Marisa Lifschutz, lead industry analyst with research firm IBISWorld Inc., such retailers as Target, Walmart, Forever 21 and H&M have recently expanded their plus-size offerings.
Warren, though, said FullBeauty carries a wider range of sizes than many retailers do, which gives it a competitive advantage.
A typical retailer won't carry much above a women's size 22, Warren said, but FullBeauty carries sizes up to women's 44 and men's 9X.
"We definitely see competition increasing in the smaller plus sizes," Warren said. "At the higher end of the size curve, there's much less competition."•
Please enable JavaScript to view this content.