In a recession, cash is a commodity few small businesses can spare. That's why many are turning to an even older form of commerce.

Rather than waste excess capacity or inventory, small businesses are increasingly bartering with one another for their goods or services. It keeps businesses on both sides of the deal busy, cuts their costs and, sometimes, generates new clients for both.

"People are looking everywhere they can to keep afloat," said David Wallach, President of the Portsmouth, Va.-based International Reciprocal Trade Association. "So they're looking for new ways to do things. And they've got more time to do it."

According to IRTA, about $12 billion worth of bartering transactions are conducted among small businesses every year. But in the recession, Wallach said he's seen both the size and the volume of bartering deals increase 15 percent. And he expects it to keep climbing.

Bartering predates the development of money. Think of the fisherman whose lines capture more than he can eat, so he shares his catch with the blacksmith, who supplies hooks. Some companies still practice bartering in its most ancient form, negotiating one-to-one trade agreements outside their standard billing. These types of arrangements often spring from mutual need.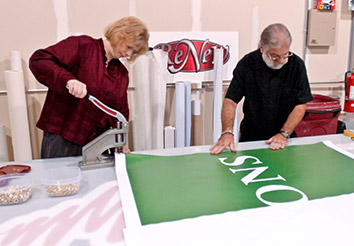 Trading of goods and services spikes during recession. (IBJ Photo/Robin Jerstad)

Cash-strapped startups relied on bartering long before the recession, said Michael Goldsby, Ball State University's Stoops Distinguished Professor of Entrepreneurship. To make the most of it, he said, small businesses should prize creativity and innovation. Reciprocal trade today can yield bigger things, once the economy improves.

Looking at the long term

Goldsby recommends small businesses aim for more than an even swap. The bigger goal should be long-term connections. When used strategically, he said, bartering can build the groundwork for trade partners to eventually ink traditional sales.

"Right now, entrepreneurs are preparing for an upswing later," Goldsby said. "You're trying to get into that company so anything you can do to build that relationship is going to pay off later. It's a bit of a gamble."

"If you're doing something that can save a company money, make it money or solve its problems, they're going to want to keep working with you," he added. "That's what business to business is, if you think about it."

For a one-to-one example, there's local attorney Lorie A. Brown. She's also a registered nurse, and her law practice Brown Law Office PC advocates for the plaintiffs in medical malpractice disputes. Brown, 48, founded her company in 1999. She hires contractors as needed, but she's its only full-time employee.

A few years ago, Mario Gurendo, owner of locally-based Labongo Computer Systems, approached Brown for help with a legal matter. Brown's practice also covers contract law, and Gurendo was having trouble with bill collections. In the course of their conversation, Brown realized she could use support for her company's IT.

The arrangement is informal. Labongo hosts Brown's Web site and supports its e-mail. And whenever Brown has a computer problem, Gurendo fixes it on short notice. In exchange, she reviews all his contracts. Brown said she's never attempted to put a billable dollar value on the legal or computer work. She guessed it could be in the low thousands.

A bonus for Gurendo: Brown introduced him to friends from the Indiana Trial Lawyers Association, who became LaBongo clients.

"To keep my business running is priceless. Whether he has two contracts or five contracts, to me it doesn't matter, because I know I have the comfort that anytime I have a problem with my system, he'll be here and keep me up and running."

Shooting for shared sales

Other small businesses also find barter agreements do more than save money. They can actually generate shared sales from mutual outside clients. Indianapolis life coach and mental health counselor Darlene Graham owns a professional development sole proprietorship called Making Sound Choices. She founded it in 2007, after dreaming about it for 17 years as an Eli Lilly and Co. lab technician, then earning a master's degree in counseling from Christian Theological Seminary.

Graham, 43, offers motivational speaking and corporate training services, but much of her work is with individual clients. One of them is a local personal trainer. Rather than bill one another, Graham attends the trainer's exercise classes on Tuesdays and Thursdays. In return, the trainer gets a 45-minute counseling session once a week.

The reciprocal exchange benefits both directly. But what's even better, Graham said, is it leads to new business for both. Graham offers free 30-minute live coach consultations to the physical trainer's clients. And she recommends the trainer's services to her own clients who want to get in shape.

Graham said it's difficult to calculate the dollar value of the barter arrangement. But she's sure of one thing: She won't cut the same terms for just anybody.

"I would limit the number of clients I'd do it with," she said. "Eventually, the bottom line is to make a profit."

One-to-one barter agreements don't work for everyone. One small business may have no need or use for what another is willing to trade. That's why many are increasingly tapping into barter networks, such as Bellevue, Wash.-based ITEX Corp.'s virtual marketplace or New Berlin, Wis.-based International Monetary System Ltd.

Such exchanges introduce tens of thousands of other small businesses to the mix. ITEX allows merchants to sell their wares for ITEX dollars, which can then be redeemed elsewhere within the network.

ITEX's Indiana network has tripled in the last two years to 438 members, said Sarah Reynolds, who co-owns the company's Indiana franchise with her mother Vickie. Trade volume has also spiked. Last year, ITEX facilitated $3.2 million worth of business trades in Indiana. This year, local activity has increased even more, with an average $340,000 worth of goods and services traded every 28 days.

Reynolds said ITEX maintains all of its members' trading statements online so they can properly file IRS form 1099B. Bartering has the same tax implications as any other type of exchange, which means Uncle Sam expects a cut. But he'll also allow businesses to write off reciprocal trades, if their value is reinvested into your company.

Don't go overboard

"I never encourage businesses to do more than 10 [percent] to 15 percent of their total income in trade, because you don't want it to be lopsided," Reynolds said. "This is something people are supposed to be using to supplement their income."

Sales trainer Ron Sukenick, 60, owner of Indianapolis-based Relationship Strategies Institute, swears by ITEX. His company, founded in 2002, does business around the country. Sukenick has used ITEX dollars to pay for all kinds of things, such as a $6,000 Web site and the $9,000 remodeling of his home-based office.

"Just because you don't have the cash doesn't mean you can't facilitate a transaction," he said. "People are more open today than at any time in history."

Others like the idea that giving and accepting ITEX dollars give free advertising to other users of the system.

Last year, for example, Shelly Keyler and her husband, Tom, opened a Noblesville-based Speedpro Imaging franchise. Shelly Keyler, 53, had previously worked for 30 years at Hewlett-Packard. Tom, 57, was a manufacturing plant manager. Their small business makes outdoor banners and signs, as well as the sales displays used at conventions. It can also make magnetic advertising decals used on vehicles.

Recently, Speedpro allowed a construction firm to pay for $500 worth of custom truck advertising decals with ITEX dollars. Shelly Keyler cashed them in for restaurant gift cards, which she offers as door prizes at the many trade shows she attends to promote Speedpro. She also bought a year's membership with the Rainmakers networking organization.

"I'm getting exposure to this ITEX community. These people are more likely to give [Speedpro] a try," she said. "And when they're pleased with our service, they spread the word to people they know and do business with. And they lead to other customers who pay cash."

As small businesses explore bartering agreements—whether one to one or via an electronic exchange, Brown, the attorney, has a word of advice: bartering isn't "play money." Treat it as seriously as any other financial transaction.

"Just be very clear on what you're giving and what you're receiving, and make sure you're both on the same page, so one of you doesn't feel like the situation's lopsided."