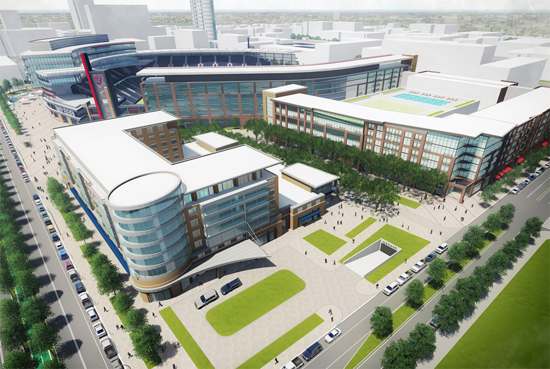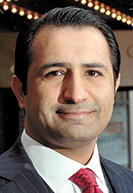 Ozdemir
Ersal Ozdemir, the owner of Indy Eleven, has big plans for a stadium surrounded by housing, retail and office space—but where to put it?
Ozdemir isn't revealing possible locations for his $550 million Eleven Park project, beyond stating early this month that "several sites in downtown Indianapolis" and at least one elsewhere might be a good fit.
But community leaders and other observers are bandying about lots of possible sites they say could benefit from the economic spark such a project could provide. Those ideas range from the west-side Lafayette Square Mall area and a former RCA factory east of downtown to a 15-acre site near Lucas Oil Stadium and a 26-acre site in Twin Aire, where the city's new criminal justice center is under construction.
"There are two different [potential] strategies" for projects like this, said Tedd Grain, executive director of the Local Initiatives Support Corp. in Indianapolis, which works to resuscitate urban neighborhoods.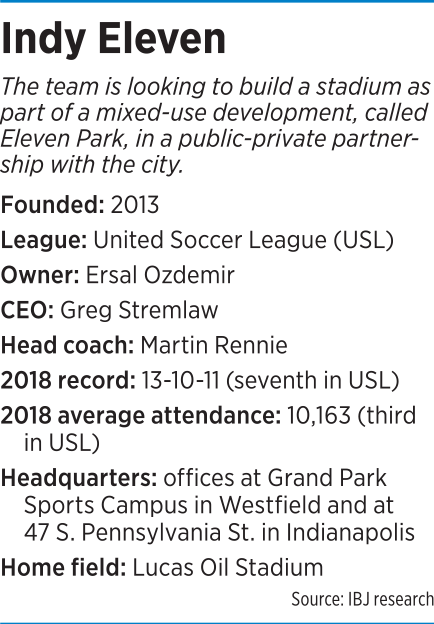 "One, you can put it in a place where you can then build around it and that be part of the strategy. Or you can put it in a place that already has density, and it can really thrive as a result of that."
One site Ozdemir has explored that falls into the latter category is Broad Ripple High School. IBJ reported this month that the team on Nov. 13 sent a letter to Indianapolis Public Schools expressing interest in the 16.5-acre property, which has been vacant since the end of the 2017-2018 school year.
However, in that story, Eleven Park spokesman Tim Phelps downplayed the site's potential, saying, "we have no further comment on any site that has previously been or [is] currently under consideration" for the project.
Even so, a city official knowledgeable about the deliberations who spoke on condition of anonymity said the school property is under heavy consideration.
One strength of that site is that Broad Ripple is the starting point for the Red Line, a bus rapid-transit line currently under construction that will run south along College Avenue through Broad Ripple, eventually ending at the University of Indianapolis on the south side. The presence of the Red Line only a half mile from the high school site could mitigate concerns that the 15 to 18 home games a new stadium would host per year would create gridlock in an already congested area.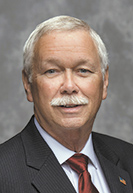 Sandlin
The city official said that also under consideration is a site just south of Lucas Oil Stadium that's bounded by McCarty Street to the south, Merrill Street to the north, West Street to the east and Kentucky Avenue to the west.
The Indiana Finance Authority in 2016 acquired the site from Minneapolis-based paint maker Valspar Corp., which had taken ownership as part of its $762 million purchase of Indianapolis-based industrial-coatings maker Lilly Industries Inc. in 2000. Valspar concluded it didn't need the property, cleared it and put it up for sale.
State Sen. Jack Sandlin, R-Indianapolis, who this month drafted legislation aimed at enabling financing for the project, said he views the Valspar property as the "ideal location."
One strength of the site is that it sits across White River from the GM stamping plant, a 103-acre property that Indianapolis-based developer Ambrose Property Group is planning to transform into a $1.4 billion mixed-use development called Waterside.
"I think it would make a great nexus for downtown, having those so close together," Sandlin said.
Ozdemir said this month that he envisions Eleven Park as a "transformational urban project." Project plans call for lodging, office and retail space, public spaces, an underground parking structure, and apartments.
Under his proposal, the city would issue bonds to fund the $150 million, 20,000-square-foot outdoor arena, while the residential and commercial components would be privately developed, through Ozdemir's Keystone Corp. and other to-be-named investors.
Tax revenue captured by a new Professional Sports Development Area encompassing the whole project would go toward bond payments.
Sandlin said team officials told him they were exploring three sites for the project but didn't name them.
Grain, the LISC executive director, said a number of other properties also might have merit, including the nearly 40-acre site of John Marshall Middle School, at East 38th Street and Mitthoeffer Road, which IPS closed at the same time as Broad Ripple High School last year.
"That's an interesting parcel with lots of possibilities," Grain said. "[Not] for just that campus, but also the neighborhood itself."
Grain also sees promise in the 26-acre site of the former Twin Aire Drive-In. The shovel-ready property is targeted for residential development as part of efforts to use construction of the $572 million criminal justice center to revive the neighborhood.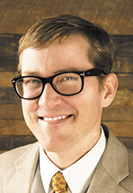 Grain
He also mentioned Sherman Park, a 49-acre site at Sherman Drive and Michigan Street that once was home to an RCA TV factory employing 8,000 people. The city cleared the site two years ago.
Steve Alexander, past president of the Stadium Village Business Association, which includes the area surrounding Lucas Oil Stadium, said he had multiple conversations with Ozdemir four years ago, when he first rolled out plans for a stadium.
He said Ozdemir in those discussions talked about a stadium's being part of a broader vision that included apartments, hotels and retail.
"To the extent the new development could help create a new district or village … it would be great for the city, wherever it goes," Alexander said. "The more assets we have throughout the community, the more growth can occur in the county."
Mary Clark, executive director of the International Marketplace Coalition, said she has "a great deal of interest" in bringing Indy Eleven's stadium project to the west side.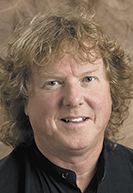 Alexander
The area around West 38th Street and Lafayette Road, including the long-struggling Lafayette Square Mall, has numerous retail vacancies. But in recent years, neighborhood leaders have transformed it into an international melting pot, and the area has enjoyed "significant momentum lately," with construction of a YMCA, a new library branch and other development, Grain said.
He shares Clark's enthusiasm for the idea, and said the area also boasts "a significant international soccer constituency" and has subsidies and other special programs already in place to spur development. He said the mall site itself might be an option.
Clark said that, a few years ago, she pitched Ozdemir on building the stadium in the International Marketplace corridor, but at the time he seemed to have his heart set on downtown.
"I think this area has quite a bit to offer," she said. "There's a wide variety of nationalities represented in this small area, and I think people really would get behind a project like this … it could not only bring a sport loved around the world to their back yard but would help create new opportunities."
Clark added: "It's likely closer to a pipe dream than it is to becoming a reality, but you've got to start somewhere."•
Please enable JavaScript to view this content.