Mark and Tina Bennett sell coprolite specimens at their store, Spencer Lapidary. And if you don't know what most of that means, you have plenty of company.
A lapidary is an artisan who turns stones and minerals into jewelry and other decorative items. And coprolite is, well, fossilized animal dung.
The Bennetts sell more than that, of course—everything from a small, polished stone for around a dollar to a $10,000 skull-and-vertebrae fossil from a 65-million-year-old reptile called a mosasaur. Rock tumblers. Soapstone carvings. Petrified wood. And more.
"We both love rocks," said Mark Bennett, 50, who grew up sticking interesting-looking rocks in his pockets. "We love making jewelry, we love being around rocks, we love going to buy rocks. If you find something you love to do, see if you can make money with it and then learn to live within the money you can make and you'll be really happy."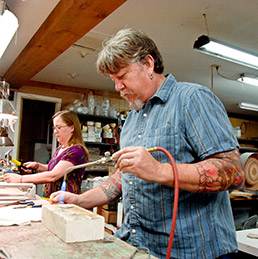 Tina, left, and Mark Bennett have a combined 50 years of experience making glass and metal items from scratch. (IBJ Photo/Robin Jerstad)
In 2005, the Bennetts bought Spencer Lapidary in Elwood from Glen Spencer, who opened the business in 1986 and built most of the machinery they still use today to cut and polish rocks. They considered the business "a retirement supplement." Mark had worked for the federal government in various capacities; Tina, 52, still works as an export certification specialist for the U.S. Department of Agriculture's Animal, Plant and Health Inspection Service in Lafayette.
The only business plan they had was "a loose one in our heads," Mark said. "We knew we weren't going to get rich here. We thought it'd be cool to keep it open because it's part of Indiana history."
The Bennetts boast of a combined 50 years of experience with stained glass (from church windows to sun catchers), hot glass and silversmithing. They added those products to the store.
"We saw that we could bring more diversity," Mark said.
They also made the store handicapped-accessible, redesigned the inside, made repairs on the building, added signs, and brought an up-close-and-personal feeling to customer service.
Leo Huser of Noblesville remembers the first time he and his wife, Ange, visited the store more than two years ago. At first, they exchanged small talk with Mark Bennett.
"What brought him over to really talk to us was, Ange sat down at the front of the store to look through some rocks in some of the boxes," Huser said. "Mark told me that made him feel good because he went through a lot of trouble to put a carpet cleaner to the rug and he was happy she felt comfortable enough to sit down."
Friendliness was no problem for the Bennetts. What they couldn't bring was a business background. That leads Mark Bennett to advise would-be entrepreneurs to find an accountant to advise you.
"Because if you're not an accountant, you need one," he said. "You really need to do it right from the very beginning. It cost us both time and money to get the common mistakes fixed."
Early on, the Bennetts had employees before realizing they couldn't afford them. These days, Mark is in the store full time and Tina works on Saturdays.
They also needed to grow the business, which they did by advertising on TV (in Comcast's north zone) and in trade journals. And they created a Web site that helped mightily when the economy went south last year—though most of their business still comes from people walking into the store. In the past year, though, not as many people have come in to buy because, as Mark points out, jewelry and rocks are a "want" item, not something people need.
The Bennetts also face some long-term issues. About 25 years ago, the federal government enacted legislation prohibiting people from taking anything from public land. The states followed suit.
"I can really see the reason for it," Mark said, "but now you don't have anyplace to take your kids who are interested in rock hunting."
Because of that, interest in rock collecting started to wane.
"We need to get younger generations involved … and we need to start speaking their language," he said. "Lapidary—there is no modern term for that. Maybe that's part of what's wrong."
Doug Guthrie, owner of Washington-based Lortone Inc., which sells rock tumblers and other supplies, has been in the business since the late 1970s. Although its heyday was in the mid-'70s, he said there's been a resurgence recently.
"You can probably chalk it up to the aging population and a return to creative hobbies as opposed to active hobbies," he said. "Most people find there's a creative side to them, whether it's eating or knitting or lapidary or cooking. When you get to be 55 or 60, it's hard to bop down hills on your mountain bike."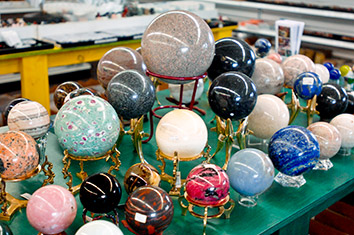 The store's rare stone spheres range in price from $9 to $6,000. (IBJ Photo/Robin Jerstad)
Lortone does its part by selling rocks cultivated from private land to about 400 lapidaries, including Spencer. And Bennett does what he can to educate people about rocks. He figures next year, when they reach five years as owners, he and Tina will take a look at what they need to do next.
"We don't know what the future holds," Bennett said. "Even though I cut the crystal balls, I haven't figured out how to use them yet."
Please enable JavaScript to view this content.