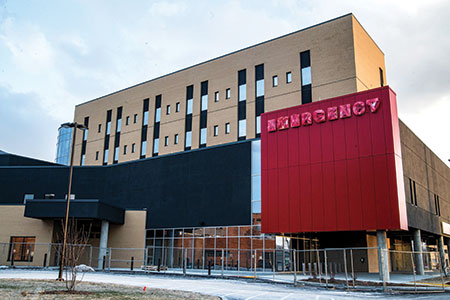 The emergency department at the new, $175 million Community Hospital East has bright lights, gleaming hallways, heart monitors in all the exam rooms for the first time, and 72 beds—making it about twice as big as before.
The goal: Get patients into a treatment room within a few minutes, rather than keep them cooling their heels in the lobby, as now happens in the cramped, hodgepodge of ER rooms and nurses' stations.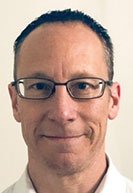 Hollingsworth
"Our doctors are often ready to see patients quickly, but we didn't have space to put them," said Dr. Jason Hollingsworth, Community's emergency department director. "We were gridlocked. Now patients will get into a room immediately and see a provider quicker."
When the new hospital opens in stages over the next two weeks, patients and visitors will see a major upgrade in facilities. Rooms in the patient tower will be private and spacious, with pull-out sofas for overnight family visitors. Each patient will receive an iPad to order meals and learn about treatments. Nurses will restock patient rooms from a separate hallway door into supply closets to minimize noise and distraction.
The Indianapolis-based health system is replacing a 63-year-old complex that was showing its age—from small rooms and narrow hallways to scuffed decor and creaky elevators—with a sleek, modern hospital. It's on the same property as the old one, near the intersection of North Ritter Avenue and East 16th Street.
It will be smaller (250,000 square feet vs. 450,000 square feet) but will have more patient rooms, a significantly larger emergency department and brand-new equipment, from beds to surgical gear.
The patient tower will have about 175 beds. In its heyday in the 1980s, the hospital had about 800, and attracted patients from far beyond the east side.
The investment by Community Health Network is significant, in an aging neighborhood where 70 percent of patients are on Medicare or Medicaid (the national average for a hospital is 58 percent).
Community Health officials have said they felt a moral imperative to reinvest in the east side, while many hospital systems around the nation are fleeing city facilities for more distant suburbs.
An analysis by the Pittsburgh Post-Gazette and Milwaukee Journal Sentinel in 2014 found that nearly two-thirds of the roughly 230 hospitals opened since 2000 are in wealthy, often suburban, areas—not in poor city neighborhoods, where the sickest populations live.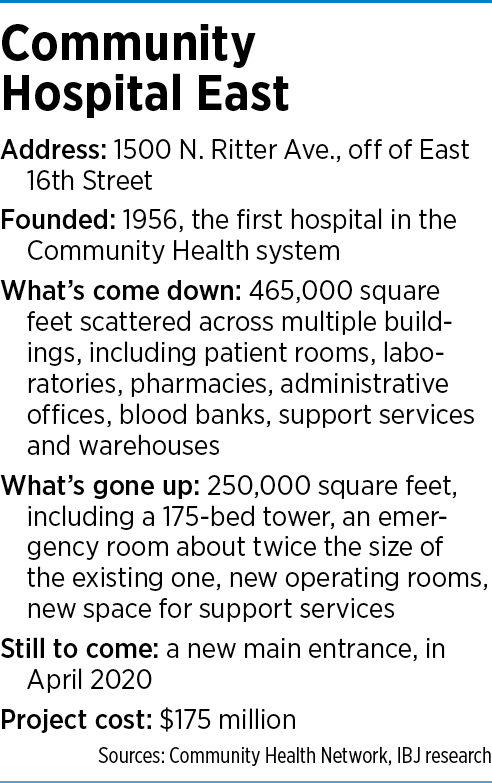 Some experts in health economics say Community is taking a calculated risk building a hospital in the inner-city, with a large percentage of patients without private insurance. But uprooting it or relocating it could have been a problem too.
"I'd guess that they don't want to have a hole in their network," said Nicholas Terry, executive director of the Hall Center for Law and Health at Indiana University.
By building a new, smaller hospital, Community Health says it hopes to reduce operating costs of an older building while still serving its neighborhood.
The old, 10-building campus once housed many functions that have since moved or shut down, including pediatric inpatient care, cardiovascular care, blood products and a central warehouse. In recent years, workers have torn down about half of the 1-million-square foot complex.
During a recent tour, hospital officials pointed out the new amenities, including the emergency department, which is expanding to handle a growing volume. In recent years, the ER has treated about 85,000 patients a year in a space designed for about one-third of that. The new emergency department will include two triage rooms, an EKG room, a center to treat victims of domestic and sexual abuse, and an area to monitor patients overnight whose injuries aren't serious enough to warrant admission.
One problem with the old ER: Treatment rooms often turned into holding rooms, as patients waited for lab results, X-rays and other procedures. In the meantime, the lobby filled with other patients waiting to see a doctor. Now, there will be enough treatment rooms to get all patients out of the lobby within minutes of arrival.
The construction also includes new operating rooms, labor and delivery rooms, and a critical care unit.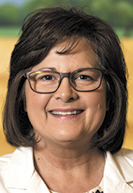 Dooley
While much of the new hospital is ready, some renovations are still to come—like a new entrance, with a distinctive new look.
"It will have what I would call a cottage-style craftsman look," said Paige Dooley, the hospital's chief nursing executive. "It will have high windows, rounded at the top. But it won't be a grandiose gallery. It will be more appropriate for this neighborhood."
An open house will be Feb. 2. Community will move patients Feb. 4-12. But the move will be relatively low-key, since the new hospital adjoins the old one, and patients won't have to go outside.
That's unlike other major hospital moves in central Indiana in the last decade, such as when Franciscan Health moved its Beech Grove patients in 2012 to its far-south side campus, or even Eskenazi Health's 2011 move about a block away from the old Wishard Hospital. Both of those moves required ambulances and teams of nurses and emergency responders to travel with each patient.•
Please enable JavaScript to view this content.