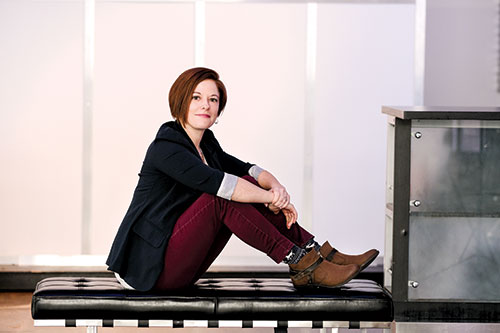 One of central Indiana's leading actresses (among her credits, a female "Hamlet"), Briggeman founded Summit Performance, devoted to plays by and about women. Its first production, "Silent Sky," proved a critical and box-office hit.
Getting here: "Everyone I knew from Purdue moved to Chicago. I needed to go somewhere else," Briggeman said. But after time in Minnesota's Twin Cities—and her first professional gig in Kentucky—she settled in Indianapolis, building up a resume with the Phoenix Theatre, Indiana Repertory Theatre and others. She laughed in 2016 when a friend suggested she start a feminist theater company. But "then the tape of Donald Trump and Billy Bush came out, the Women's March happened, all the blatant sexism that surrounded the time leading up to the election, and I was shaken by that. I thought, 'What can I do?'" 
Transitional moment: Briggeman had long struggled with chronic depression and anxiety. "After my brother died [from cancer at age 33], I started having panic attacks, and my therapist at the time recommended I try medication. The effect was incredible, subtle—I still felt totally like myself—and yet huge to me. Losing my brother had a huge effect on me emotionally and mentally, and I think motivated me to go big. I continue to try and honor his life—in some ways by not taking mine for granted."
Mentor: Janet Allen, executive artistic director at the IRT. "She's the smartest person I know, gracious and business-savvy, a consummate professional and, above all, a kind and incredibly considerate
human being."
Givebacks: Summit partners with Women4Change on fundraisers. 
Inspirational music: "Brandi Carlile has been hugely inspirational to me. … She talks publicly to help normalize the idea of her 'non-traditional family' and I've tried to be as open as possible about mine in an effort to do the same thing."
Downtime: "I love seeing movies late on a weekday with my wife when there's no one at Keystone Arts."•
Check out more 2019 Forty Under 40 honorees.
Please enable JavaScript to view this content.