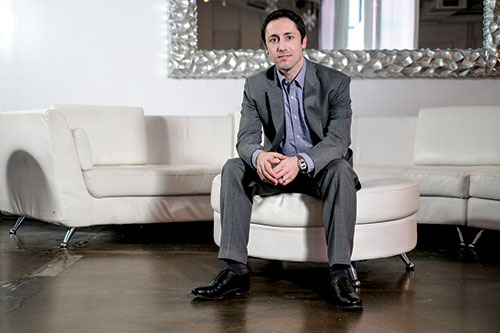 Kulwin helped pioneer a surgical treatment for severely disabling strokes and now travels to teach the procedure. "Nothing beats the smile on patients' and families' faces when you can help them through one of the scariest times in their lives," he said. 
Getting here: After college, Kulwin went straight to medical school at the University of Chicago. Matched into residency at IU, he stayed there for his fellowship and then was invited to stay on as faculty.
Transitional moment: "During residency interviews, I decided to do a second-look visit at IU due to the very recently formed hybrid Goodman Campbell Brain and Spine, a combination of the former academic department and the neighboring large private-practice group." Kulwin spent all day investigating the unique program up close and decided it was something he wanted to be part of.
Mentors: His IU School of Medicine residency mentors (and now partners) Drs. Troy Payner and Mitesh Shah.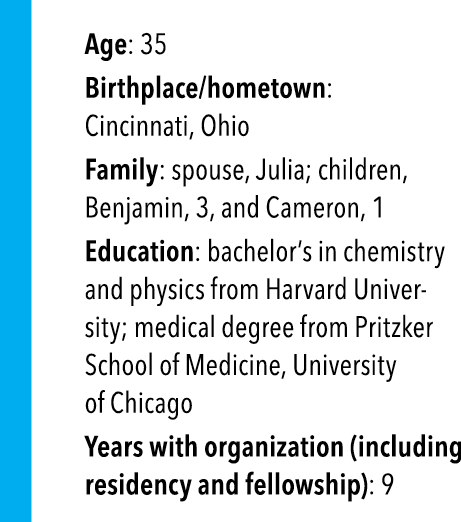 Recent business challenge: "Starting a new practice in a highly competitive environment, especially when your comparison group is your former teachers, was daunting," he said. "Thanks to my excellent training, support of my mentors and partners, and focus on my patients, I feel like I've planted the seeds for a successful neurosurgical career."
Givebacks: Kulwin serves on the board of The Neurosurgery Foundation at Goodman Campbell and is a member of the Alumni Council of Pritzker School of Medicine.
Downtime: "I'm still on three soccer teams—and make a game a week if I'm lucky." He's also an avid squash player, "but that has been on hold with young children."•
Check out more 2019 Forty Under 40 honorees.
Please enable JavaScript to view this content.