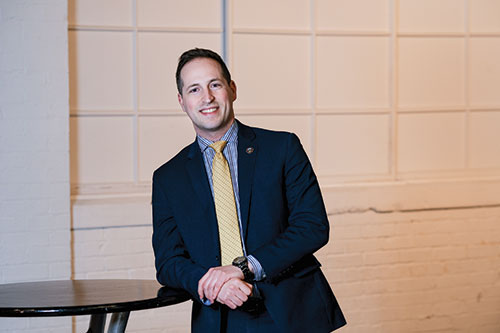 While still a law student, Mestetsky called the Carmel Mayor's Office to ask questions for a paper on new urbanism. Ten years later, he emailed the mayor again and asked if they could meet over coffee. The result: an appointment to the Carmel Redevelopment Authority and then Carmel Redevelopment Commission. "I'm building the city my daughter is growing up in. What could be better?"
Getting here: His parents moved the family from Ukraine to the United States in 1994. "They left good jobs and came here knowing no English." He was 9—old enough to watch his dad doing maintenance while taking English classes at night. "My drive comes from them." He later went to law school, the first summer of which was split between Duke Realty's legal department and study in Paris. "The walk to campus through the Bastille area was like a living museum," he said. "I knew I wanted to build things and create." After passing the bar, he worked at Katz & Korin. In mid-2015, he joined Bingham Greenebaum Doll and became top real estate associate before leaving for the city of Carmel in 2017.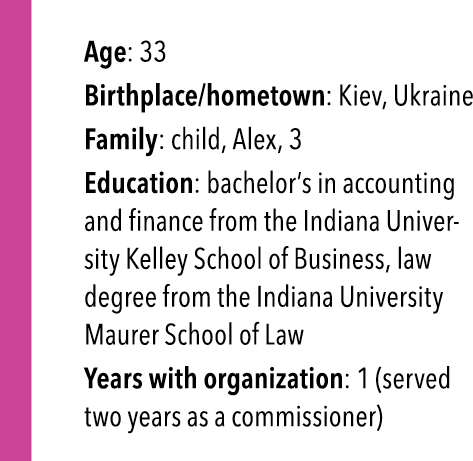 Transitional moment: Being asked to lead the Carmel Department of Redevelopment. "It's funny how many life experiences helped position me for this role. Living in and walking around great cities like Kiev, Paris and Washington, D.C.; governmental accounting classes; years of volunteering focused on community building and development; and, obviously, countless hours playing SimCity."
Major achievements: "The big projects happening today are the work of my predecessors," Mestetsky said. "I look to build on those with the Carmichael Hotel and the whole central core."
Givebacks: Mestetsky serves on the board of King Park Development Corp. and the Russian School of Indiana. He's also on the executive committee of the Indianapolis Bar Association Commercial and Bankruptcy Section.
Downtime: video games and lacrosse•
Check out more 2019 Forty Under 40 honorees.
Please enable JavaScript to view this content.