Indiana University Athletics Director Fred Glass isn't just calling an audible, he's changing the advertising
playbook in Bloomington.
Glass, along with his new senior assistant athletics director for marketing, Patrick
Kraft, are upping the ante this football season, with a 67-percent boost in television advertising and 20-percent boost in
the total media buy for this football season.
And Glass himself will take center stage in the campaign, a spot
usually reserved for the head coach.

Glass
The season-long campaign, which kicked off in late August, features TV spots in Indianapolis, Evansville,
Fort Wayne and Louisville, a new target market for IU football. It also features Web ads, movie theater spots—which
are new this year—and billboards in those markets.
The TV buy for football increased from $124,750
last year to $208,376 this year, with the total media buy growing from $361,366 to $430,761. IU officials estimated they saved
more than $70,000 by producing the ads in-house.
"We're putting together a very focused approach
for football," said Kraft, a former IU football player who joined Glass' staff three months ago. "We have
a very structured plan that we think will be very impactful. The emphasis is on being fresh and fun."
Kraft,
who earned a doctorate in sports management from IU in 2008 and formerly served as clinical professor of sport management
at Loyola University Chicago, said the TV ads will be most numerous early in the season.
The ads will appear on almost every major affiliate in the target markets, plus cable channels such as ESPN, ESPN2,
Fox Sports Indiana, Fox News, CNN, The Weather Channel and The Golf Channel.
Glass, who replaced Rick Greenspan
as IU athletics director in January, is the unmistakable focal point of the initial TV ads. A black-and-white IU yearbook
photo of Glass during his undergraduate days appears along with current-day video of Glass telling TV audiences about how
things have changed in Bloomington, including improvements to the 52,692-seat Memorial Stadium.
Glass said he
had no intention of taking center stage when he took the athletics director job, preferring instead to work behind the scenes
as he did during his many years in Indiana politics.
"I was persuaded due to my roots as an alumnus, and
since I'm new, and because the stadium [enhancements] are new, that I should be identified with the program,"
Glass said. "People want a more intimate connection. … They want to know who's running the athletic department.
When it's an alumnus, that's a good story to tell."
David Morton, president of Sunrise Sports
Group, an Indianapolis-based sports marketing consultancy, isn't surprised Glass is featured prominently.
"Fred Glass, right now, has to be the face of that [department] to create some stability," said Morton, who
formerly worked on IU's sales and marketing account for Missouri-based Learfield Communications Inc. "Given all
the turmoil, with the coaching changes and Greenspan's resignation, this is a department that desperately needs stability."
While Glass is well-known in central Indiana for his work within the administrations of Gov. Evan Bayh and Mayor
Bart Peterson, Morton is uncertain how much his endorsement of the football program will move ticket sales.
"The
product on the field is what's going to bring people back," Morton said. "I think who people would like
to hear from is the coach, Bill Lynch."
Lynch may not be the best IU spokesman. Though his contract runs
to July 1, 2012, IU football observers seem to think his long-term future at IU is tenuous given the team's poor performance
last year and this year's projections.
Using an athletics director as an advertising spokesman seems to
be something of an anomaly. Big Ten sources said they didn't know of any other athletics director serving as the primary
spokesman in an ad campaign. Likewise for officials of the National Association of Collegiate Directors of Athletics, who
said they have scarcely heard of such a tactic.
"The only time I've seen an athletics director be
a major part of any kind of ad campaign is when they are a well-known former coach like Vince Dooley at Georgia or Bo Schembechler
at Michigan," said Darin David, account director for Dallas-based sports marketing agency Millsport, which works on
accounts for Ohio State University, the University of Michigan, the University of Tennessee, the University of Texas, UCLA
and others.
IU's Kraft insists that debuting the campaign focused on Glass is not due to a lack of confidence
in Lynch's future with the school. The plan is to roll out ads featuring Lynch later this month and next month, Kraft
added.
Not everyone agrees the amped-up campaign will have any effect.
"My first question
is, you spent $430,761 on a media buy, how much revenue did it produce?" said Larry DeGaris, director of academic sports
marketing programs at the University of Indianapolis. "If you can't tie advertising to revenue, you probably should
be looking in other areas."
It's too early to say whether Glass' strategy will score, but early
attendance figures are encouraging. The team's home opener Sept. 3 against Eastern Kentucky University drew 36,759 fans,
the largest home-opening crowd since 1997.
Still, DeGaris thinks the money would be better spent hiring more
salespeople.
For half the money IU spent on its media buy, DeGaris said, the university could hire a sales executive
and three account representatives who could directly move the attendance needle.
"Add two grad assistants
and two interns and you have a robust, functioning sales department," said DeGaris, who helped launch a sports sales
and marketing division at James Madison University in Virginia.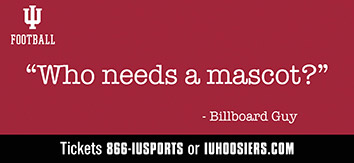 Billboard ads in four key markets are part of IU's
expanded marketing campaign. (Photo Courtesy Indiana University)
One thing is certain. IU's football team is
a big part of the athletics department's revenue-generation engine. In recent years, it has overtaken the men's
basketball program as the top moneymaker, and sports business experts said if IU is to be competitive across all sports, the
football program must continue to increase revenue.
The school's football revenue grew from $10.5 million
in 2005 to $21.8 million in 2008, making up almost 40 percent of IU's total athletics revenue. IU men's basketball,
meanwhile, has seen its revenue grow more slowly, from $11.9 million to $17 million during the same period.
The
increased football revenue has come as a result of IU's scheduling more home games and increased revenue sharing from
the Big Ten from things such as bowl revenue and television money.
Part of the football program's revenue
goes toward its $12.5 million operating budget, but there is still plenty left over to support non-revenue-generating sports.
Despite recent growth, IU's football program brings in less than one-third of what programs at Big Ten goliaths
Michigan and Ohio State generate, and Indiana's overall athletics department budget—about $55 million—is
less than half of the budgets at those schools. Last year, Ohio State was second nationally, with just more than $117 million
in athletic department revenue, and Michigan tallied $99 million.•
Please enable JavaScript to view this content.