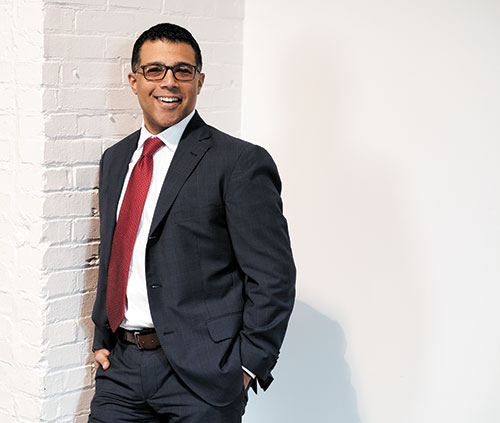 As president of one of Indiana's fastest growing hospitals, Vasquez has been instrumental in building IU Health's presence in the west suburban market.
Getting here: After graduating, Vasquez entered a management program with Bank One. He moved into health care with what was formerly St. James Hospital in Chicago Heights as a financial analyst. "From there, I made an ambitious leap of faith and applied for controller for St. Mary Medical Center in Hobart, Indiana—a role that at the time was out of my experience." Landing the job, he worked his way to director of finance for the Community Care Physician Network and then chief financial officer for St. Catherine Hospital in East Chicago. He joined IU Health in 2016 as chief operating and financial officer of West Hospital and was promoted to president in 2018.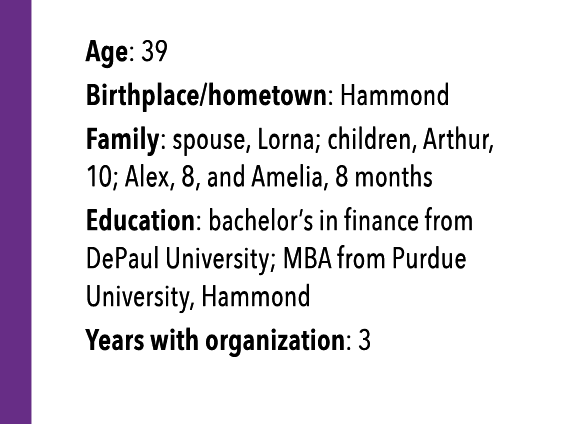 Transitional moment: The St. Mary controller job. "The CFO took a chance on me and challenged me to get my CPA within two years. My wife was pregnant and I decided to get my master's in accounting to earn enough credits to sit for the CPA, all while learning how to actually be a controller." He earned his CPA on the first try—"a feat for me because I had never been the smartest in class or even one of the smartest." 
Recent business challenge: Managing an $84 million vertical expansion of two towers on the IU Health West campus. 
Givebacks: Vasquez serves on the boards of Christamore House, La Plaza and North Shore Health centers. He's also a council member for Our Lady of Mount Carmel School and on the advisory board for Purdue Calumet MBA and Indiana University's School of Public & Environmental Affairs.
Downtime: "I grew up playing soccer. I've tried to play about a half dozen times in my 30s, but I always seem to injure myself. From now on, I'm sticking to watching my kids play their sports."•
Check out more 2019 Forty Under 40 honorees.
Please enable JavaScript to view this content.