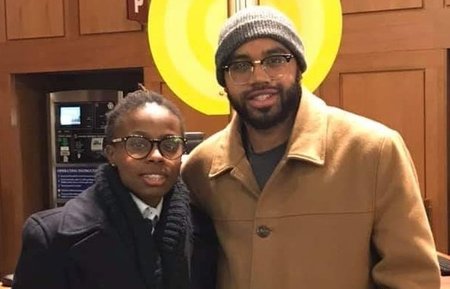 Two Democrats who planned to seek Indianapolis City-County Council seats in this year's municipal elections may have their efforts quashed over concerns about their party affiliation, days ahead of the candidate filing deadline and party convention.
Belinda Drake, who wants to replace Democrat Stephen Clay in District 13, and Derris Ross, who wants to replace Democrat La Keisha Jackson in District 14, both have filed their paperwork for office and launched their campaigns. 
But Marion County Democratic Party chairwoman Kate Sweeney Bell told IBJ she plans to challenge their candidacies because they don't meet party-affiliation requirements. The candidate filing deadline is Friday and the withdrawal deadline is Monday.
At issue is that counties determine party affiliation in municipal elections by using candidates' past primary votes—and neither Drake nor Ross ever has voted in a primary election.
Drake—a precinct committeewoman for the Democrats, board member for the Indiana Stonewall Democrats, district chairwoman for the Indiana Young Democrats, and former intern for U.S. Rep. Andre Carson—said she was shocked after learning last month that the party had concerns about her party affiliation.
"I canvassed with Democrats," Drake said. "I did phone-banking for Democrats. I gave my money to Democrats. My heart is broken."
Candidates in municipal elections are required to fill out paperwork certifying they are affiliated with the Democratic or Republican Party, something they can establish one of two ways: by voting with that party in the most recent primary election in which they participated, or by having the party chairperson endorse them. If they cannot meet those requirements, they can run as independents.
Bell said she met with the Marion County Democratic Party Central Committee to discuss how the party should handle candidates who did not meet the primary voting requirement. She said the decision was made that she would not certify anyone who couldn't meet the primary voting requirement. She said Ross and Drake are likely not the only people whose candidacies would be challenged—if they don't withdraw—because of the decision.
"I think it's a bad idea to pick and choose who you apply rules to," Bell said. "I'm of the mindset that [you] don't ask someone to do something you're unwilling to do. Arguably, the least of which a Democrat can do, and the most important thing they can do, is vote."
But Ross—who runs a local foundation and said he was a lifelong Democrat, along with being a Barack Obama and Hillary Clinton voter—said he believes the decision was driven by a "political agenda to control who's in those seats versus doing what's best for the communities and letting the people decide who they want to represent them."
"Do they really want fresh voices in there?" Ross said. "Do they really want new ideas? Do they really want new energy? Who could say?"
Ross and Drake have sought representation from well-known local attorney Abdul-Hakim Shabazz to make their case. Time is of the essence. Saturday is the Marion County Democratic Party's pre-primary convention, where party insiders will choose the party's endorsed candidates going into the primary.
Shabazz, an attorney at Lewis and Wilkins LLP and an outspoken right-leaning politico, sent a letter to Bell on Wednesday asking her to reconsider her position.
"Why you would choose to limit their competition within the Democratic Party is perplexing and problematic—both from a constitutional and fairness perspective," Shabazz wrote in the letter. 
Both candidates said they had not voted in past primary elections due to a lack of awareness of their importance. However, they both say they have voted for Democrats in several general elections.
Ross, 28, said he just "changed his life around" five years ago, after growing up in a high-poverty neighborhood and living on the streets.
"We were never exposed to voter education," Ross said. "A lot of people don't know. Instead of writing me off, put [a program] in place to fill that gap."
Drake, 33, said "I can't honestly tell you anybody's set me down and said primaries are important."
"It may be," she said, "because nobody ever thought I would run for office."
Please enable JavaScript to view this content.