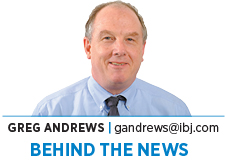 It was the biggest acquisition in Eli Lilly and Co.'s history. But despite the high stakes, it happened at astonishing speed.
Eli Lilly and Co. announced on Jan. 7 that it was buying Connecticut-based Loxo Oncology, a 6-year-old drug-developmnent firm targeting genetically defined cancers, for $8 billion. The companies announced the deal just 18 days after the Indianapolis-based pharmaceutical giant dangled its first offer, according to blow-by-blow accounts of the negotiations contained in new regulatory filings by the two companies.
The purchase gives the Indianapolis-based drug giant access to potentially game-changing cancer drugs, including one being studied for multiple tumor types that recently was fast-tracked by the U.S. Food and Drug Administration. The FDA's granting of "breakthrough therapy" status positions the drug for possible launch in 2020.
In addition, Loxo in November won FDA approval for another cancer drug it is commercializing with Germany-based Bayer AG. In a research study, that medicine shrank tumors in 75 percent of patients with a rare type of genetic mutation.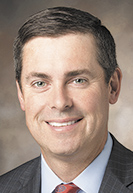 Ricks
The rapid-fire deal-making fits with the decisive leadership style of CEO Dave Ricks, a Lilly veteran who took the helm in January 2017 and quickly signaled he would pursue acquisitions to supplement the company's internal R&D.
According to Lilly regulatory filings, the company from the outset was hellbent on sealing the Loxo purchase quickly so it could be announced at a huge industry confab—the J.P. Morgan Healthcare Conference, which ran Jan. 7-10 in San Francisco.
The filings don't make clear why that was so important to Lilly, and a spokesman wouldn't elaborate, but the event is a hotbed of deal-making—raising the specter that Lilly needed to wrap up Loxo before a rival bidder swooped in.
With the tight timeline in mind, Lilly's head of business development, Darren Carroll, rolled out a whopping initial offer when he and other Lilly executives met with Loxo brass on Dec. 20. It was $230 per share in cash, or a total of $7.8 billion. The per-share price was a 64 percent premium to where the stock closed the prior trading day.
Nobody takes the first offer in a negotiation. So it was no great surprise when Loxo's CEO, Dr. Josh Bilenker, told Carroll the next day that $230 per share wan't enough. Bilenker left the door open to a deal, however, saying Loxo "would be willing to provide limited due diligence information in order to help inform Lilly in order that it could consider increasing its proposed acquisition price."
Discussions continued between the two companies as Lilly executives and company advisers pored over internal Loxo documents, including clinical data and product-commercialization plans.
Ricks jumped into the discussions on Dec. 27, and three days later sent a new offer for $235 a share, or $8 billion.
"Shortly after transmitting Lilly's letter, Mr. Ricks spoke with Dr. Bilenker, discussed some of Lilly's key due diligence findings and stated that Lilly was not prepared to further increase its offer above the $235 per share contained in the December 30 Proposal," according to a regulatory filing by Lilly. Later the same day, Lilly's financial adviser, Deutsche Bank, alerted Loxo that $235 was the company's "best and final" offer.
Loxo's board immediately met to discuss its options—including whether to contact other potential suitors and round up rival offers. Board members discussed that path could be risky, raising the possibility of a leak that could jeopardize the Lilly offer and leave Loxo with less-compelling buyout offers.
Loxo said in a regulatory filing that its board ultimately concluded "the value to Loxo Oncology's stockholders would be maximized by avoiding the risks of outreach to third parties … and securing the significant premium represented by the transaction with Lilly."
Board members noted they would have the right to jettison the Lilly deal if a better offer surfaced and the company paid Lilly a breakup fee. The size of that fee was one of the final points in negotiations, with Lilly ultimately agreeing to $265 million. No competing offer materialized.
Analysts are praising the purchase, despite the lofty price.
"We view the deal positively because it expands LLY's oncology franchise, and oncology assets, on average, command a premium multiple," Cantor Fitzgerald analysts wrote last month, using the company's ticker symbol.
Ricks, speaking at the J.P. Morgan Healthcare Conference, sounded almost giddy about Loxo's cancer pipeline.
"They've got a little engine of scientists that continues to work on these precision medicine strategies, and we'd be excited to have them keep doing that," Ricks said.
Speaking of Lilly's broader innovation strategy, he said, "It is true—Lilly is participating in some of the most attractive parts of biopharma growth, but they're also very crowded," referring to cancer and other fields, such as neuroscience. "I think we've proven in the last five years our ability to execute in these tight spaces and do well."•
Please enable JavaScript to view this content.