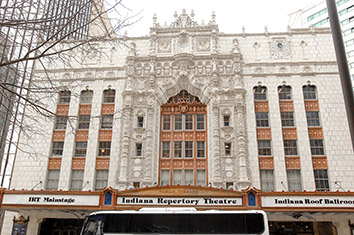 The Indiana Repertory Theatre raised the curtain Monday on the public portion of an $18.5 million fundraising campaign with just a sliver of its ultimate goal remaining.
The campaign, titled "Front and center," already has collected $17 million in commitments from donors, officials said. About two-thirds of the goal amount is earmarked for beefing up the group's endowment from $12 million to $24 million.
"The biggest purpose of the Front and Center campaign is sustainability. It's so the IRT will be here in 50—hopefully 100 years—and can continue to make art that matters and changes lives," Janet Allen, IRT's executive artistic director, said in a prepared release.
Lead gifts for the campaign have included commitments for $1 million or more from Lilly Endowment Inc., Sarah and John Lechleiter, Allen Whitehill Clowes Charitable Trust, and Rollie and Cheri Dick.
The balance of the capital raised in the campaign is meant to boost programming at the downtown theater, upgrade its facilities and shore up its physical plant. The initiatives will include:
—growing the theater's schedule in both number and variety of productions for more diverse programming and audience development;
—outfitting the artisan shops and performance spaces with state-of-the-art technologies;
—remodeling the upper-stage lobby to better reflect contemporary design;
—maintaining the building that houses IRT at 140 W. Washington St.
Built in 1927, the building has served as IRT's home for nearly 40 years. It's owned by the city of Indianapolis, which is in the process of completing $4 million in renovations to the structure.
As part of its latest lease agreement with the city, IRT has agreed to be responsible for future building maintenance.
Please enable JavaScript to view this content.